TRAVELLERS REVIEWS for SLOVENIA
Send us your travel reviews and we will post them here!
Email us at :info@sloveniaforyou.com
| | |
| --- | --- |
| From: | Polly |
| Date: | March 2017 |
| Visited: | Postojna and Predjama Tour |
| Recommends: | All places! |
| Concerns: | N/A |
| | |
| --- | --- |
| From: | Niki (UK) |
| Date: | December 2016 |
| Visited: | Transfer/Tours - Bled, Postojna, Predjama, Ljubljana |
| Recommends: | All places! |
| Concerns: | N/A |
Hello I would like to thank you for helping me find a walking tour in Ljubjiana and mini buses for our party of sixteen to visit the caves and castle tours in December.

Dragan was extremely helpful, punctual and friendly, as well as being very reasonably priced, he took us to the caves, Castle and to Lake Bled. He purchased our tickets and sorted our lunch which saved us so much time. We would highly recommend him.

In addition, you put us in touch with a walking tour guide Tjasa, who we unfortunately didn't get to meet, as she had to pass the tour to her friend Alenka Jeran at the last minute due to a business trip. Alenka was friendly and fun and again we would recommend her.

Thank you for all your help, we will be adding our comments to trip advisor and are happy for you to add these to your own website/ I will forward some pictures to you.

Kind regards
Niki

Book a Sightseeing Tour today!

| | |
| --- | --- |
| From: | James (UK) |
| Date: | October 2016 |
| Visited: | Transfer - Trieste to Skocjan |
| Recommends: | All places! |
| Concerns: | N/A |
Yes, thanks…we had a wonderful time in Slovenia! The transfer went very smoothly – the driver found us in Trieste rail station at the agreed time & we got to the Skocjan Caves in time for the 1pm tour which was what we were aiming for so we could then get a 3pm shuttle back to Divaca and travel onwards to Postojna.

As we were travelling from Venice that day and had to finish the day in Postojna, we found it quite difficult to visit these caves without our own transport and relying on public transport links & the taxi was the only way we could make it all work & use the Cave shuttle bus to get us back to Divaca. Thankfully it all worked out fine….

We loved both the Skocjan & Postojna Caves & we also spent some time in Lake Bled and in Ljubljana. Myself & my partner got engaged at Lake Bled actually so I guess we will have to come back as Slovenia will always hold some very nice memories for us!! Thanks for your help again with organizing the taxi

Kind regards
James

Book a Transfer today!

| | |
| --- | --- |
| From: | Susan (UK) |
| Date: | June 2016 |
| Visited: | Transfer - Bled to Trogir |
| Recommends: | All places! |
| Concerns: | N/A |
Having just returned home from Croatia following the transfer you arranged for us from Slovenia to Croatia I would like to say a big thankyou. The transfer went well. It was carried out in a timely and efficient manner by a very pleasant young man named Mark. Mark dropped us at our requested destination at the promised time and furthermore arrived at our Hotel to collect us in a very timely manner.

The service was such that I cannot praise it highly enough.

Kind regards
Susan

Book a Transfer today!

| | |
| --- | --- |
| From: | Ryan (UK) |
| Date: | June 2016 |
| Visited: | Wine Tour - Slovenske Konjice, Jeruzalem and Ptuj |
| Recommends: | All places! |
| Concerns: | N/A |
Hi there!

Sorry it took me so long to get back to you guys! Yes we had such an amazing time! We'll definitely be booking through you again when we return! We'd love to try the coastal tour where all the Reds are made next time. Tomaž couldn't have been a better guide, we had so much fun with him.

I've attached a few photos with this email as well, thanks so much again! :)

Absolutely amazing tour! Our guide Tomas was outstanding! We started in Ljiblijunia and visited 3 areas within the north east wine region of Slovenia; Slovenske Konjice, Ptuj and Jeruzalem. At each winery we got to try a wide selection of wines and learned a lot about each vineyard and region.

The lunch we had at the Zlati Grič was some of the best food I've ever had and the view was breathtaking! Slovenia has a truly beautiful countryside. Tomas was so full of enthusiasm and had planned the tour perfectly. On the journeys between vineyards we got to know Tomas and learned a lot about Slovenia. The tour was great value for money and I couldn't have enjoyed today more! Great banter, great wine and beautiful surroundings!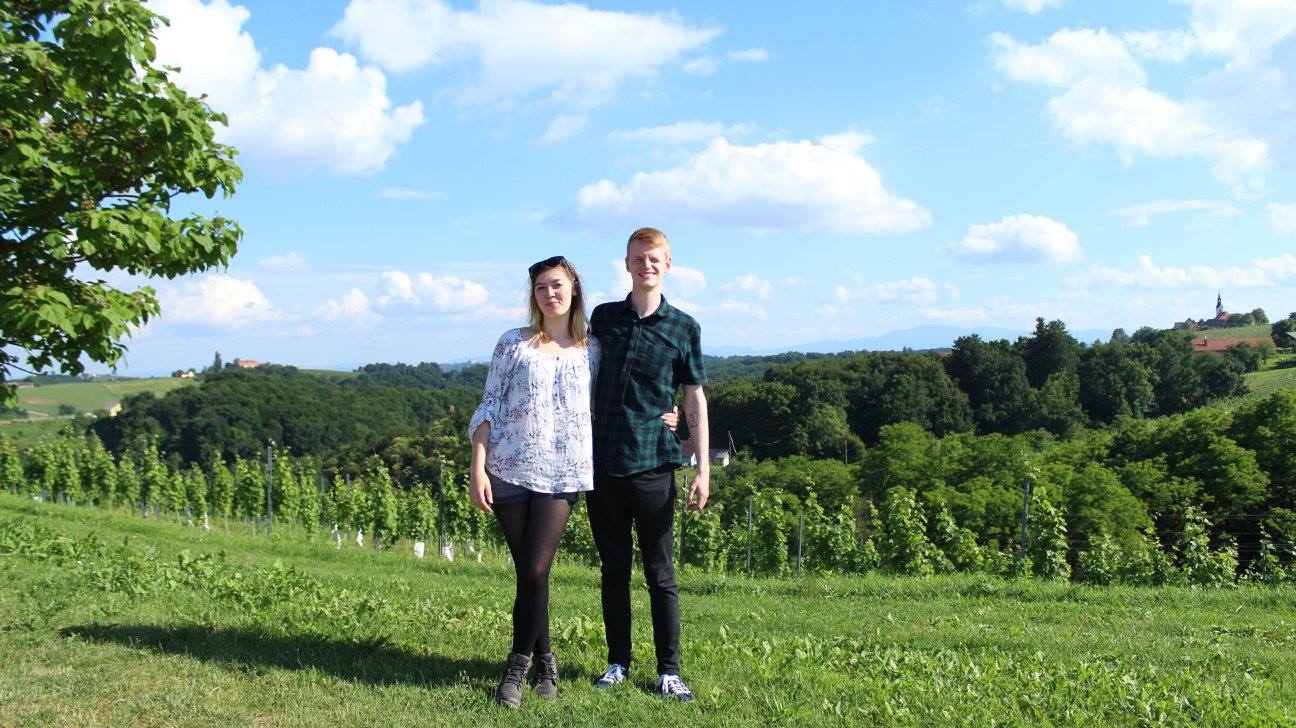 Book a Wine Tour today!
| | |
| --- | --- |
| From: | Mic (AUST) |
| Date: | May 2016 |
| Visited: | Off Cruise Tour - Ljubljana, Postojna and Predjama |
| Recommends: | All places! |
| Concerns: | N/A |
Hi Greg,

The tour was wonderful and Matthew (Matej) was awesome. It was a wonderful way to explore Slovenia with the limited time we had ashore. Thank you for coordinating the shorex.

Six of us were collected from the cruise terminal by Matej, we had a comfortable ride to the Postojna Caves and Predjama Castle. Both were fascinating, bring a jacket for the caves as it is cold on the train going in and out. The caves are magnificent.

Following this we drove to Ljubljana city and Matej showed us a place where we could buy a traditional sausage lunch. We also went up to the castle on the funicular. A great day! Much better than anything the ship was offering. Our tour was 295 euro, plus we paid some extra for entrance fees. A wonderful day.

Book an off cruise shore excursion today!

| | |
| --- | --- |
| From: | Karisa (UK) |
| Date: | May 2016 |
| Visited: | Wine Tasting Tour - Vipava and Goriska Brda |
| Recommends: | All places! |
| Concerns: | N/A |
| | |
| --- | --- |
| From: | Hewen (Taiwan) |
| Date: | May 2016 |
| Visited: | Tours Bled, Postojna, Lake Como |
| Recommends: | All places! |
| Concerns: | N/A |
Hi Greg and Ronalee,
Dragan is the best and we will spread words around in Taipei Taiwan! More then the fee reasonable but also the punctuality and friendly chat made us very much like home!

Book your transfers around Slovenia today!

| | |
| --- | --- |
| From: | Sylwia (UK) |
| Date: | May 2016 |
| Visited: | Transfers Bled, Bohinj, Ljubljana |
| Recommends: | All places! |
| Concerns: | N/A |
Hi Greg and Ronalee,
Transfer with Dragan went very well, he is very nice and helpful man. I hope that I will have a please to work with him again next year. The trip was lovely and we were charmed by the beautiful Slovenia!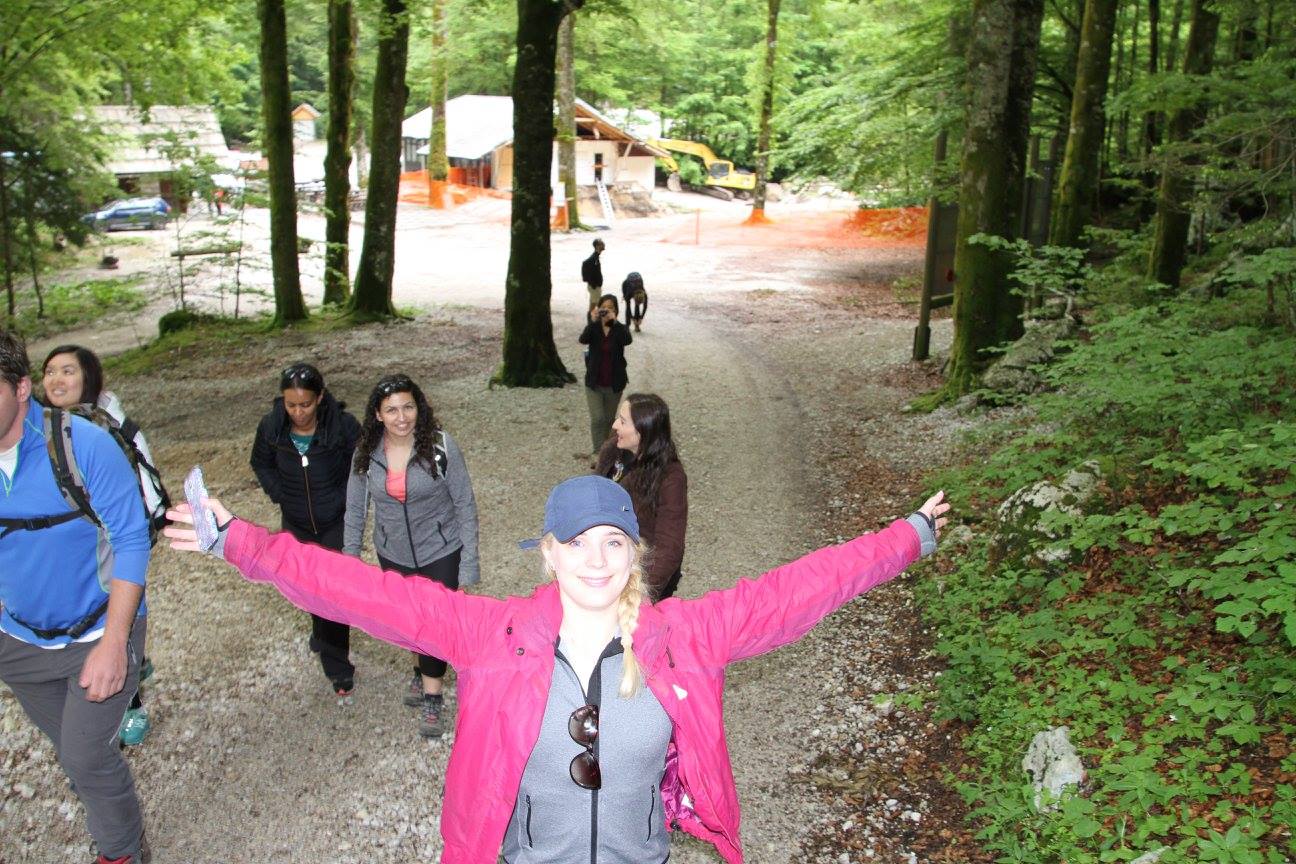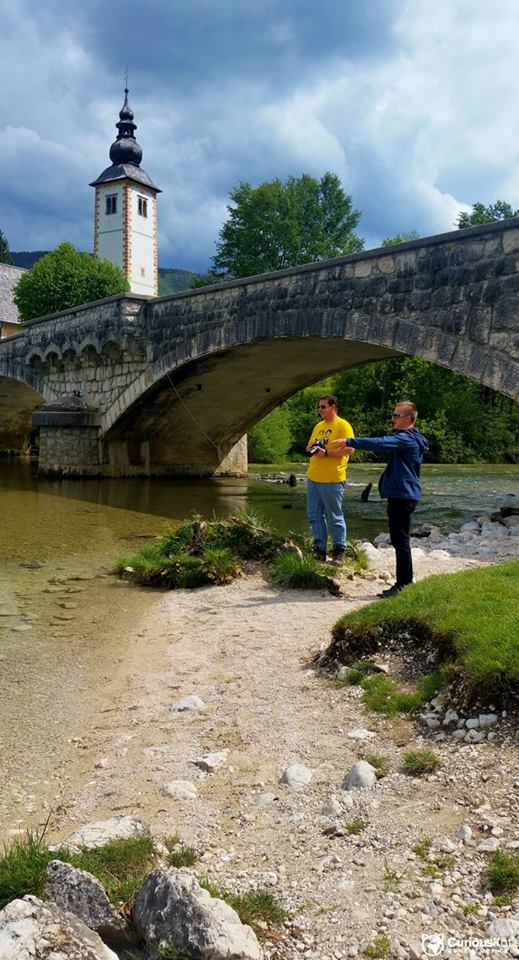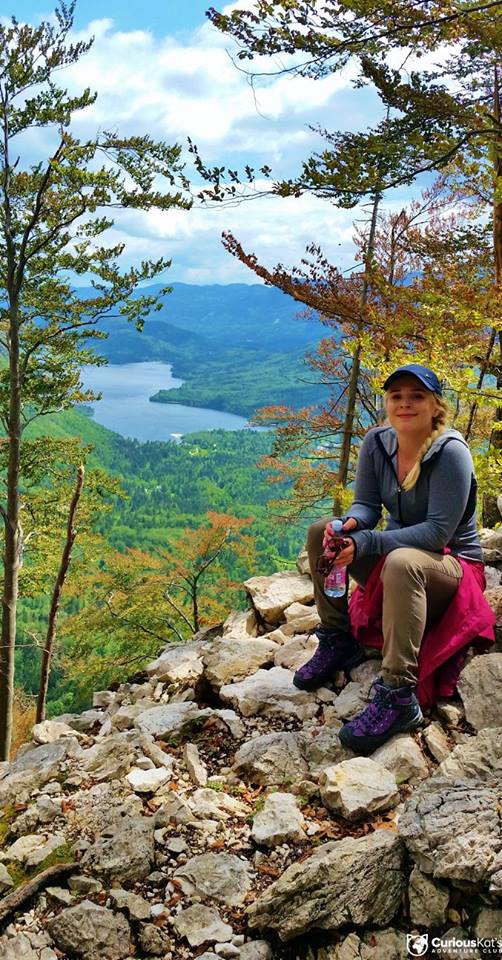 Book your transfers around Slovenia today!
| | |
| --- | --- |
| From: | Gerritt (SAF) |
| Date: | July 2015 |
| Visited: | Slovenia and Croatia |
| Recommends: | All places! |
| Concerns: | N/A |
Hi Greg and Ronalee, Good Morning,

Just a word of thanks from the Van Niekerk family for accommodating us with our recent trip to Slovenia and Croatia, Your referral to Dejan with regard to carhire worked 100%.

The service from you and the rental company was excellent, Dejan went out of his way and in the end chaperoned us on our last day by showing us parts of Slovenia.

We would love to go back to Slovenia and explore more – part of our trip was our visit to national park with the caves – what an awesome experience.

Once again thank you for your assistance and all the friendly people from your beautiful country.

Regards
Gerrit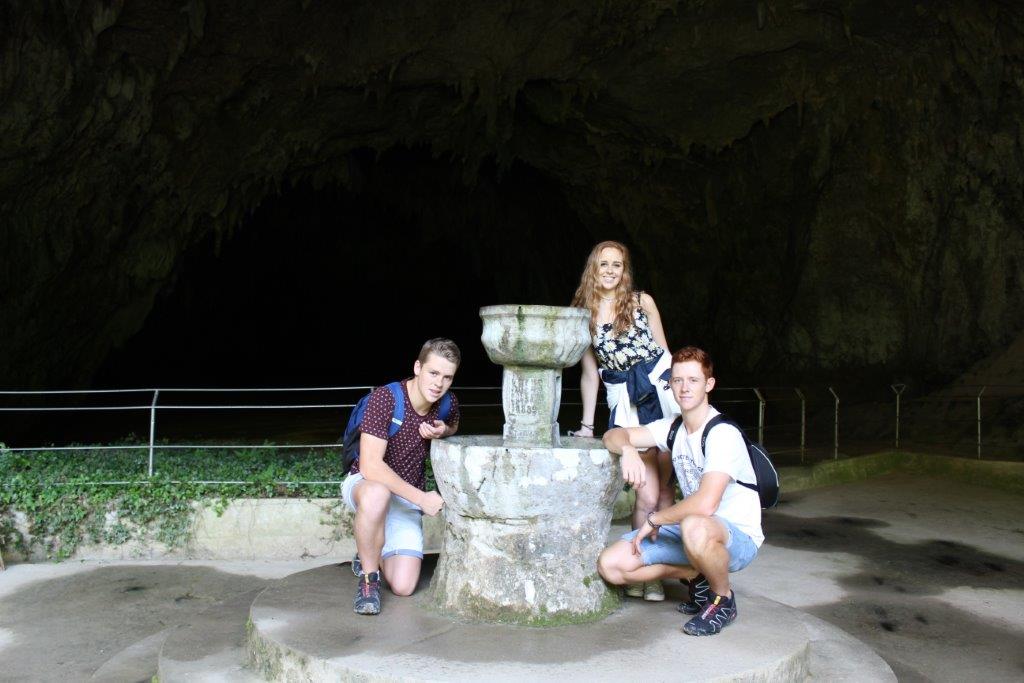 Book your one way car rental now!
| | |
| --- | --- |
| From: | Rhiannon (UK) |
| Date: | July 2015 |
| Visited: | Piran, Postojna&Predjama |
| Recommends: | All places! |
| Concerns: | N/A |
Hi Greg and Ronalee,

So, we had the most amazing time, so much so that we are planning our next trip to Piran as well as a trip to ski in Bled in winter 2016/2017!

We didn't do quite as much as we had intended, as our first day we lost a lot of due to the flight being a little delayed and the final day, 2 of our friends were flying at midday so we spent a day in Trieste before our flight. However we are quite an easy bunch to please.

We went to Postojna caves and Predjama castle, both of which were lovely. We didn't end up going to Llubjiana as only one person had insurance on the care we ended up renting and we felt bad making her drive everywhere. When we go to Bled, we will fly in there though and probably spend a couple of days there first, We spent a few days on the "beach" near the marina – perfectly placed for the boys to sit behind us and have a cocktail and play cards while the girls sunbathed! We ate all the squid; I would be surprised if there is any left in Slovenia, and should have bought shares in borovnike!!

Our apartment was amazing. We were staying near the top of the hill by the castle. I would highly recommend it. It was beautifully kitted out, had a hammock, fruit in the garden (some of which wasn't yet ripe but would be a real treat when it is), it was a 10 minute walk from the town centre, and was right near the path leading to the stoney beach.

We had our first and last night at an amazing restaurant (the name of which escapes me right now) where we had "love stories" a huge plate of fish – prawns, grilled squid, scallops and so on. It was very nice. We also bought some lovely filigree jewellery from main jewellery shop in the square. I think the owner may have got bored of seeing us as we went in so often.

It was beautiful weather, we had an amazing storm one night and our friend whose 30th birthday it was while we were there had a brilliant birthday.

All in all, it was excellent (other than me gaining a lot of mosquito bites and having to detox from squid and brorvnike!

Thank you for all your advice, we will certainly be going back and are currently trying to find somewhere/something that will help us learn Slovenian!

Rhiannon

Info for Piran, Slovenia!
Info for Postojna, Slovenia!

| | |
| --- | --- |
| From: | John (USA) |
| Date: | July 2015 |
| Visited: | Ljubljana Tour, Adventure Acitivities, Car Rental |
| Recommends: | All places! |
| Concerns: | N/A |
Hi Greg & Ronalee,

We had a wonderful time in Slovenia & Croatia, thank you! You were very helpful with your timely communication and excellent recommendations.

We absolutely loved our time with Tjaša in Ljubljana! When our flight was delayed, she accommodated us with an evening arrival and abbreviated tour of the beautiful old city. She even took the time to join us for a wonderful dinner so that we could learn more from her. We cannot recommend her highly enough. We would not have been able to appreciate the city without taking advantage a private tour with Tjaša.

We thoroughly enjoyed white water rafting in the Soca Valley. Our guide, Dejan, was very personable, professional, and fun to be with. The entire staff was helpful. We even got great recommendations for a wonderful local hike and good restaurants after the raft trip. Dragan recommended a picturesque drive over Vršič pass then a car train to Bohinjska bistrica with a lovely drive back to Bled.

I confess that I was a little nervous about renting a car from someone other than a traditional (large) rental car agency. Our wonderful experience allayed my concerns. They provided top quality cars at reasonable rates. More importantly, their staff accommodated our travel plans and tailored the delivery and pick up to our individual needs. Superior customer service, top quality cars, and fair prices - what more can one ask?

Thanks again for your assistance!

Sincerely,
John

Walking tours in Ljubljana, Slovenia, book today!
One way car rental in Europe?, book today!
Adventure awaits you in Slovenia!

| | |
| --- | --- |
| From: | Todd (USA) |
| Date: | July 2015 |
| Visited: | Off Cruise Tour - Piran, Postojna and Predjama |
| Recommends: | All places! Love to return to Bled and Ljubljana |
| Concerns: | N/A |
Our tour was magnificent. Ana was fabulous. She is so proud of Slovenia and we could see why. It is beautiful. The roads are in such great shape. The Postojna caves were breathtaking. The Predjama castle was incredulous. We could not have asked for a better guide.
Ana was so informative. She discussed the history of Slovenia which we found so interesting. She was very attentive to our needs and suggested additional activities along the way. I highly recommend this tour, this tour guide and this tour company

Off cruise tour excursions in Slovenia, book today!

| | |
| --- | --- |
| From: | Denise (USA) |
| Date: | June 2015 |
| Visited: | Car Rental + Tours |
| Recommends: | Ljubljana and Bled |
| Concerns: | N/A |
When Patrick told us our itinerary included a few days in Slovenia, I literally had to look it up on the map to see where it was! I have since learned a good amount of the history of the former Yugoslavia. After WW11, Slovenia became a part of the resurrected Communist Yugoslavia under General Tito. We have heard mixed reports on Tito but, in general, he was pretty good at unifying the area and fostering international relationships. Before his death in 1980, Tito enacted a law allowing Yugoslavia's republics to vote for independence. Both Slovenia and Croatia proclaimed independence in the early 1990's when the vote passed with over 90% of the votes. By then, however, inter-ethnic tensions were increasing but Slovenia had relatively few casualties during the Yugoslavic war as the Serbs concentrated their efforts on Croatia and Bosnia.

We decided to make this portion of our time in Europe a driving tour. I did a bunch of research on car rentals which proved to be very difficult. It is not easy to find a car rental to pick up in one country, go through a total of four countries and then leave it in a different country than our starting point. I was so lucky to come across a terrific company called Slovenia For You. They were so helpful and answered all my questions promptly. Joe and Nella ended up renting their car from a different company for literally four times the amount it cost us. The company is owned by a New Zealand / Canadian couple with family ties in Slovenia. They also offer a variety of tours and help with accommodations. We didn't use them for these purposes but their customer service was so good, that I would not hesitate to use them if (when!) we return to this stunningly beautiful country. Check them out at www.sloveniaforyou.com. It is always so nice to support a local, family owned company that offers truly great service.

My first view of Slovenia was the capital city of Ljubljana. Wow – I fell in love the minute I walked into the main square flanked by a castle on the mountain. It was difficult to imagine the war years here when today, we saw a pretty utopian look at society. People rode their bicycles along beautiful, cobblestone boulevards lined with cafes offering delicious food and good local wine. It has such a serene, peaceful feeling.

After a lovely lunch at the oldest house in Ljubljana, we drove through picturesque countryside to Lake Bled – a recreational paradise. The area is flanked by mountains, waterfalls, gorges and lakes. With castles on hills and churches on islands, it was a pretty spectacular place and one that we easily could have stayed longer in. Dreams of a summer home in Slovenia floated through all our minds!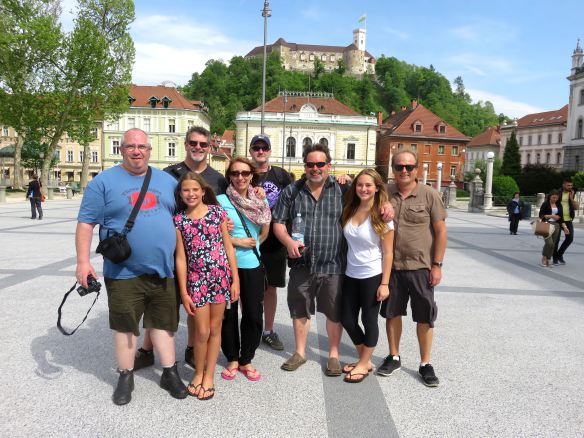 One Way car Rental is no problem, book today!
The best guided tour in Ljubljana, book today!
| | |
| --- | --- |
| From: | Bonnie |
| Date: | May 2015 |
| Visited: | Tours |
| Recommends: | All |
| Concerns: | N/A |
Hi guys, I was planning a trip to Slovenia and had a hard time finding bus information to other European cities and how to get around places by ourselves. By chance I found sloveniaforyou.com and they provided me all the information I needed promptly. Greg and Ronalee were so helpful and their partner tour company was also excellent.

Sloveniaforyou has direct contact with the tour company so they would know about the availability a lot sooner than other tour broker sites, who will not confirm booking until days later and tour might not be available). The two day tours we booked through Sloveniaforyou were in group of no more than 8, and the drivers/tour guides were very accommodating and informative. Seriously, if you are planning to go to Slovenia, just contact Greg and Ronalee and book the tours you need through them, simple and easy.

Regards,
Bonnie

Book a tour today!
The best guided tour in Ljubljana, book today!

| | |
| --- | --- |
| From: | Spyro and Cathy (USA) |
| Date: | April 2015 |
| Visited: | Car Rental + Tours |
| Recommends: | Tjasa Walking Tours, One Way Car Rentals |
| Concerns: | N/A |
OUTSTANDING SERVICE!

My wife and I just returned from a magical vacation in Slovenia, thanks in part to Greg & Ronalee and Sloveniaforyou.com travel service.

They set us up with a great rental car at a substantial discount over what we were able to find on our own. The car was larger, came with full insurance, auto trans and navigation and even so cost less than the competion. We put a ton of miles on it as we traveled through Italy, Slovenia and Croatia without any trouble. Oh yeah, all the tolls were covered in Slovenia as well.

Greg & Ronalee also set us up with a wonderful tour guide in Ljubljana; Tjasa took us on a personal tour of the old city, answered all our questions and gave us a sense for her city and country that we won't forget.

We followed their other recommendations for hikes, walks, restaurants and even a day at a spa!

We highly recommend SloveniaforYou.com as your personal concierge in Slovenia!

Spyro & Cathy M

One Way car Rental is no problem, book today!
The best guided tour in Ljubljana, book today!

| | |
| --- | --- |
| From: | Lauren (UK) |
| Date: | April 2015 |
| Visited: | Vipava and Brda Wine Tour |
| Recommends: | Loved Sveti Martin Winery |
| Concerns: | N/A |
Hi there,

We LOVED our wine tour! It ended up only being 2 of us (one friend had to cancel last minute sadly) but Graeme was still very accommodating as were the vineyards.

Graeme was really informative, knew so much about the history of the region geographically/culturally/politically and also about wine, we walked away having learned a lot! He also made sure we got our coffee fix in the morning and t​ook us to a great place for lunch, if only I could remember the name!

Our favourite vineyard was definitely the first stop at Sveti Martin with our host Peter. The setting was incredibly charming, both the location of the vineyard and the cellar, and Peter was very gracious and generous with the wine and home-made nibbles. I think we could have stayed there all day if I'm honest!

I have to take some time to write a proper review on TripAdvisor but did want to get back and say thank you for helping to arrange such a great day for us!

Here are a few shots from the day :)

Cheers,
Lauren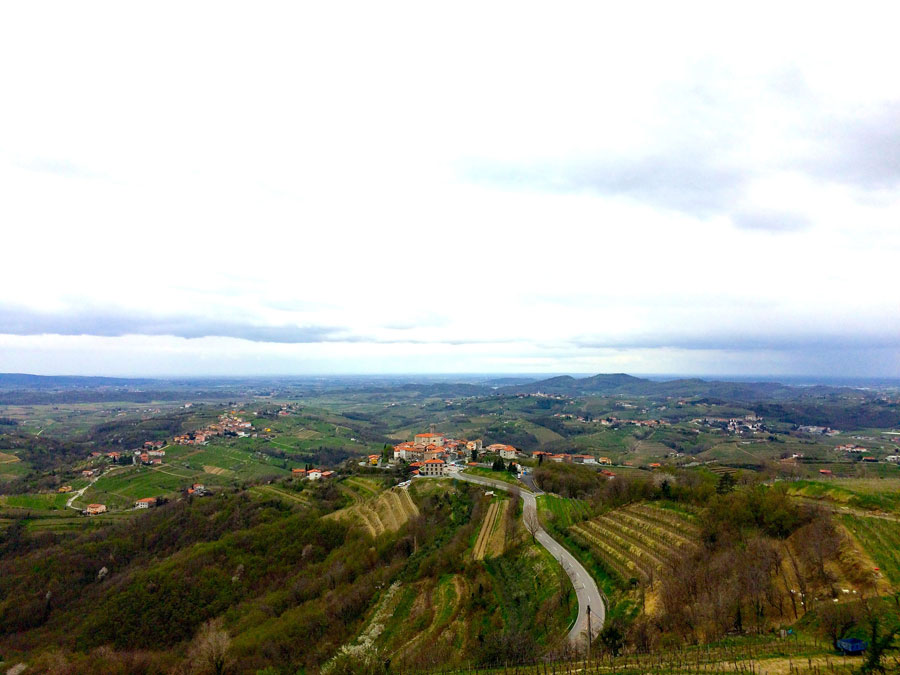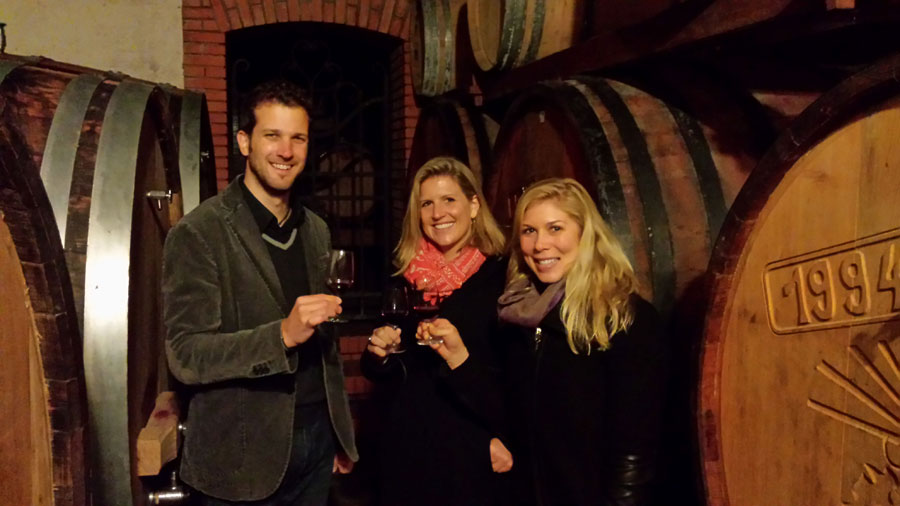 Book a wine tour in Slovenia today!
| | |
| --- | --- |
| From: | Celine (Singapore) |
| Date: | April 2015 |
| Visited: | Emerald Tour & Karst and Coast Tour |
| Recommends: | Tour company provided great service! |
| Concerns: | N/A |
Hello,

We had a very enjoyable time with this tour. We got a great value for the packed itineraries. We actually went on the Alps Emerald Tour. Unfortunately, we had to skip the Kozjak Waterfalls because of the pouring rain.

The Skocjan Cave is an eye opener. The hike inside the cave is breathtaking. The rushing sound of the river below exemplifies the force of nature.

We had a relaxing afternoon at beautiful Piran. This charming seaside town is really a gem by the Adriatic Coast and a great place to enjoy delicious seafood.

The Predjama Castle is very unique even though it is viewed from a distance. We have never seen any castle built inside the rock. The local guide's story about the legend of the cave makes it so much more interesting.

The tour company is very professional and knowledgeable. Their guides are friendly and well informed. Mitja was particularly helpful. He came to my help on three occasions:

1. We cancelled our tour to Alps & Emerald Tour on short notice and then re-booked it for another day because of the bad weather. Mitja was very quick to respond to my emails and he was very understanding and accomodating to my requests.
2. He found my cell phone in his van and delivered it to a hotel close by for me to pick up. This was done within 30 minutes.
3. Helped us to book GoOpi to transfer us from Ljubljana to Trieste. When Mitja learned there was a mix up in the transfer and GoOpti did not show up, Mitja arranged his guide to take us to Trieste without charging us extra.

Thank you for the great time we had in Ljubljana. All the best.

Celine and Bernie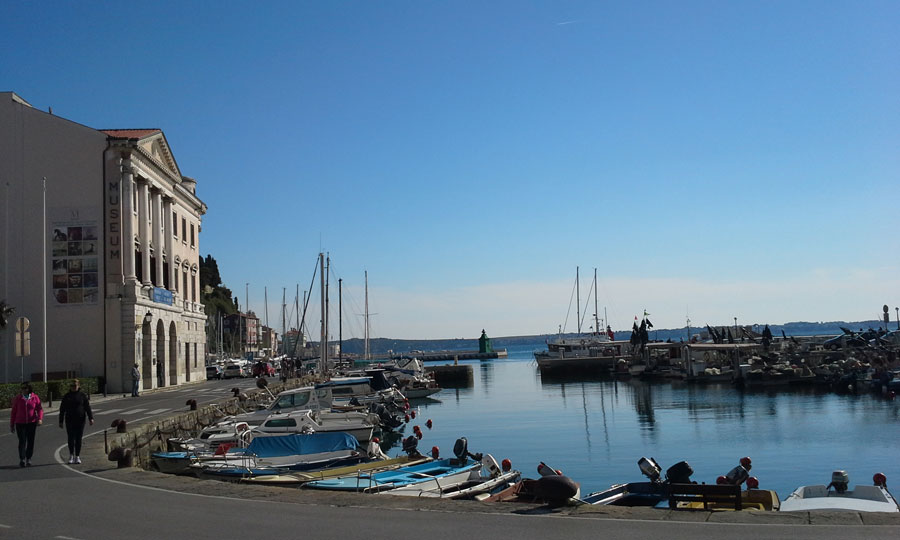 Book Celine's Emerald Adventure Tour today!
Book Celine's Karst & Coast Tour today!
| | |
| --- | --- |
| From: | Ronell (South Africa) |
| Date: | March 2015 |
| Visited: | Transfer - Bled to Florence |
| Recommends: | Transfer Service! |
| Concerns: | N/A |
| | |
| --- | --- |
| From: | Giulia (Australia) |
| Date: | July 2014 |
| Visited: | Paragliding, Hiking, Climbing - Bovec |
| Recommends: | All places visited |
| Concerns: | N/A |
Hi Greg and Ronalee,
We had a fantastic time in Slovenia. Dragan and the team at X-Point were fantastic, they really went to the next level in customer service.

They helped me manage a surprise birthday present for my boyfriend. The whole team were in on the secret paragliding trip, and my boyfriend never saw it coming!

The team possessed an excellent knowledge of the area and were very professional. I've attached a couple photos of the paragliding, a tunnel from the hike we did to Ravelnik, and a rock climbing picture.

Giulia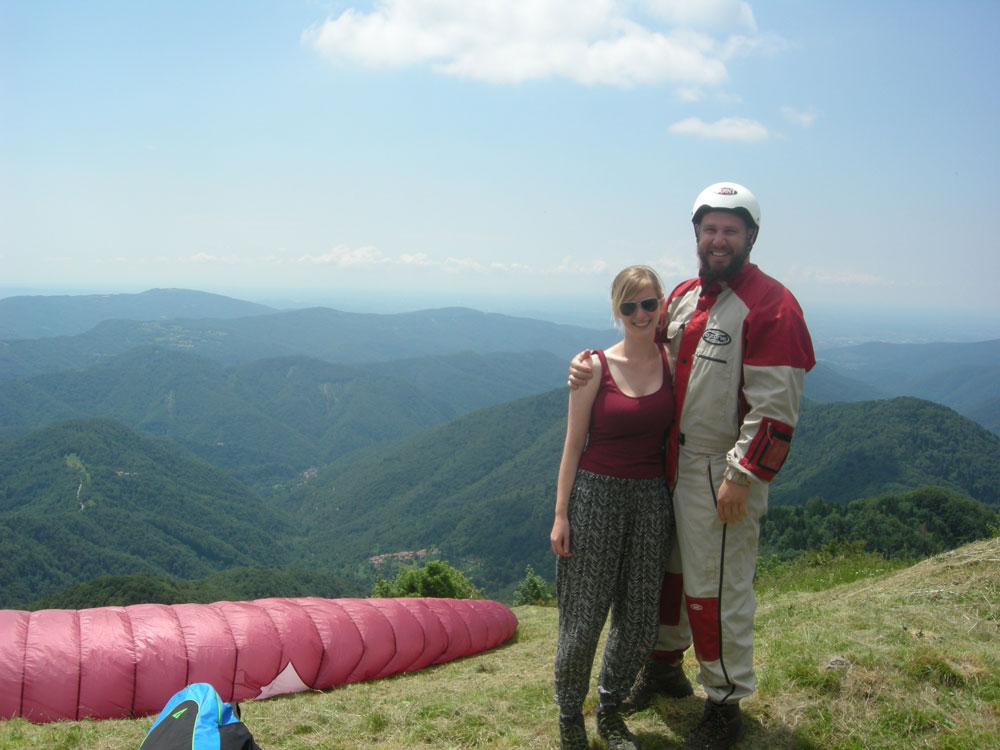 For Adventure Sports in the Soca Valley around Bovec, email us now!
For Accommodation in the Soca Valley around Bovec, email us now!
| | |
| --- | --- |
| From: | Elaine (USA) |
| Date: | June 2014 |
| Visited: | Off Cruise Tour - Kotor & Budva, Montenegro |
| Recommends: | All places visited |
| Concerns: | N/A |
We thoroughly enjoyed our trip, in large part to our guide. She was personable, enthusiastic, knowledgable and extremely considerate. She went out of her way to take us to special places and to answer our questions about sites we visited. A wonderful experience - would highly recommend

Elaine

For great private off cruise tours in Montenegro (Kotor, Budva etc)

| | |
| --- | --- |
| From: | Peter (USA) |
| Date: | May 2014 |
| Visited: | Private Tour - Lake Bled/Bohinj |
| Recommends: | All places visited |
| Concerns: | N/A |
We did enjoy the tour, enhanced by a knowledgeable and accommodating guide. We can definitely recommend that others take a day (or more) to see the lovely Lake Bled and Bohinj Valley, and we will be happy to provide your contact information, should anyone be interested. There was an unfortunate miscommunication with our drop-off location, but that should not detract from an otherwise truly enjoyable day.

For great private tours in Slovenia that are entirely flexible!
lake Bled is magical!

| | |
| --- | --- |
| From: | Linda |
| Date: | May 2014 |
| Visited: | Private Tours - Lake Bled/Bohinj/Skofja Loka and Postojna/Predjama |
| Recommends: | All places visited |
| Concerns: | N/A |
We booked a private tour to Lake Bled for 8 of us. Well what an amazing day this turned out to be.

Primoz turned up at 8.30am, what a welcome, his charming personality, passion, love and knowledge of his country was outstanding. First he took us to Lake Bled & castle the view was spectacular, better than any photograph I've seen.

Then onto Vintgar Gorge for an amazing walk through the gorge, this was just fabulous. Promoz then drove us to Lake Bohinj, we had lunch at a restaurant Primoz recommended. Lake Bohinj was extremely tranquil and peaceful. We travelled back to Lake Bled for the famous vanilla custard slice and coffee, we certainly wasn't disappointed.

On the ways back to Ljubljana, Primoz took us for a walk around the ancient town of Skofja Loka. We arrived back at 7pm after a wonderful and factual tour.

We decided to book another tour for the following day to Postonjna Cave & Predjama castle due to the fact we'd had such a fantastic day with Primoz. The caves were unbelievable, well worth a visit. Then onto Predjama castle, here the information that Primoz gave us was fabulous, he even told us ghost stories!!!!

We certainly recommend this company, brilliant value for money. Once again thanks Primoz for all your knowledge and passion for your country, we all felt we'd learnt such a lot from you!!!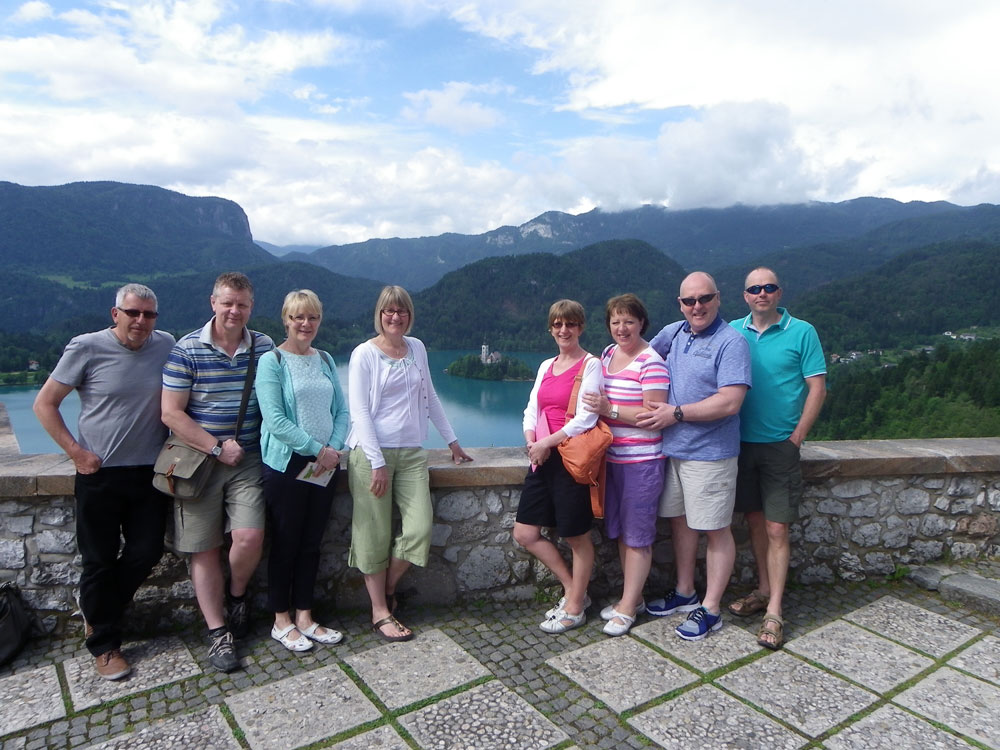 For great private tours in Slovenia that are entirely flexible!
lake Bled is magical!
| | |
| --- | --- |
| From: | Elaine |
| Date: | May 2014 |
| Visited: | Off Cruise Tour - Lake Bled and Ljubljana |
| Recommends: | All places visited |
| Concerns: | N/A |
Dear Greg and Ronalee
After all my planning for this wonderful excursion, my husband and I were unable to participate. I fell ill the day before and experienced vertigo the morning the tour was to depart.
However, our friends who did go to Ljubljana and Bled said it was one of the most amazing excursions they had during our cruise. The scenery and events were truly exceptional.

Hope to join another time.
Best regards

Elaine Farran

For Off Cruise tours in Slovenia, Italy, Croatia and Montenegro

Hi there!
I am so sorry that I took this long to reply to you!

Our Slovenia trip was great. And part of that was because of the great tips you gave us.
Your help really made a big difference. So thank you very much!

Just to recap our trip:
Day 1 to 3 in Ljubljana
Day 4 to Postojna Caves, Predjama Castle, Lipica and on to Portoroz
Day 5 to 7 Portoroz and the coast. Here we will skip the Trieste trip and do the trip to Divaca and Stanjel
Day 8 to 9 Bled
Day 10 Bohinj
Day 11 to 12 Logarska area via Kamnik
Day 13 to 14 Ptuj
Day 15 Ljubljana and back home!

A few comments and suggestions:
For us day 4 was too full, so we took Lipica out and made a day trip from Portoroz back to Lipica a few days later. A good thing because Postojna was very busy that day because of famous people visiting it. So we bought Postojna tickets, then went to Predjama first and then went back to Postojna.

So the day to Divaca we also did Lipica. And we moved Stanjel to the day we drove from Portoroz to Bled via the car train at Most na Soci. So that day we left Portoroz for Stanjel ,then to Dobrovo, then along the Soca river to Most na Soci. The river was truly amazing and one of the highlights of our trip. We had a lunch picnic next to the river at a place that I can't remember. One day in Bohinj is maybe a bit too short. The stay at Mavrica was good. The lady there is quite eccentric and offered us some of her home brewed fruit brandies!

I would also say that maybe we could have skipped Ptuj and rather spend more time in some of the other places, such as Logarska or Bohinj.The stay in Hostel Sonce was quite good.

All the accommodation you recommended was great! (Ljubljana Resort Hotel, Hotel Tomi, Dolinar Krainer, Lenar Tourist Farm and Seruga Tourist Farm)

Some highlights for us (in no particular order):

Castles! And bridges.
Sladoled, burek, horse burgers, sardoni, kremsnita, cevapcici, klobasa, borovnicevec, goulash, ...
Postojna caves (and the white salamander tank at the end of the walk),
Small drive through towns such as Divaca, Izola, Stanjel, Kostanjevica Our day trip to Piran! (Although we did this with these big rented bicycles from Portoroz. This is not a good idea if you don't have a lock for the bicycle, because we couldn't walk too far away from wherever we parked the thing
Soca river and The car train trip, Bled! Vintgar Gorge, Radovljica and its bee museum, Cable car up Vogel for a view over Bohinj, Waterfalls (Savica, Rink), Logarska Dolina, Walk up to alpine dairy farm in Robanov Kot

So thanks once again! Just writing about it brings back good memories of a beautiful country and a great holiday!

May God bless you,
Jan-Paul

For Our recommended accommodations, click here now!
Check out our location pages too!

| | |
| --- | --- |
| From: | Derek (Scotland) |
| Date: | Dec 2013 |
| Visited: | Ljubljana, Bovec, Krvavec |
| Recommends: | All places visited, Car Hire |
| Concerns: | N/A |
Hello,
Many thanks for organizing the car hire. They could not have been more helpful. The car was as agreed, and in very clean and tidy. Everything was ready for us just to leave the deposit, pick up the keys and go. Will definitely use them on our return trips.

We thoroughly enjoyed our stay in Slovenia, the weather was great. Ljubljana was a bit foggy when we arrived, but we still had an enjoyable walk round the centre. Driving was a bit strange as it has been a long time since I have driven on the right hand side of the road. Although did get lost slightly in Ljubljana.... But had a map.

Our accommodation, as noted below, were all superb. Could not fault any of them. Warm welcome, rooms superb and facilities as advertised. We had breakfast at Boka and Vodnik which were great. Evening meal in Vodnik was great. We ate out for breakfast on Saturday morning and evening meals Fri/Sat/Sun. All meals were great and service 1st class. On Sat/Sun we ate in nice places at the roadside between Bovec and Zaga. Again they were great with a good choice of menu.
Fri - Apartments Sebanc, Bled, Sat/Sun - Penzion Boka, Zaga, Mon - Hotel & Apartments Vodnik, Adergas.

Cannot get over the way most Slovenians speak excellent English and switch to it when they realise they are speaking to someone that doesn't speak their language. Puts us British to shame with our language...

Had a good drive around and went from Bled, via Kranjska Gora through Italy and the Predl Pass back into Slovenia down to Bovec. That was a great drive with spectacular scenery. As previously mentioned that is the area we would love to stay in. On the Sunday we drove from Boka down to Cerkno and then back again stopping off at a few places to get some photos. On the Monday drove back thorugh the Predl pass to get to Adergas. Once we checked in we took a drive up to the skiing area nearby, Krvavec, and then took a drive up the 210 road into Austria. Again spectacular scenery.

All in we thoroughly enjoyed our trip. We are now planning to come back over probably in late April and will be spending most time in the Bovec area to investigate more.
Will be in touch nearer the time to let you know when.
Many thanks

Derek & Frances

Great Car Hire available, enquire now!
Great One Way Car Hire available too, enquire now!

| | |
| --- | --- |
| From: | Christina (Malaysia) |
| Date: | Nov 2013 |
| Visited: | Walking Tour Ljubljana-Postojna/Sightseeing Ptuj/Maribor |
| Recommends: | All places visited |
| Concerns: | Surly Bus Drivers, Hostel Celica, Ljubljana |
Hello,
Hi Greg and Ronalee, Arrived earlier than scheduled and the driver was already there. Waited for another 2 passengers before departing. Had my walking tour in Ljubljana with Tjasa and all I can say is she's lovely! Got back from my day trip with Tjasa at Postojna. I'd such an amazing time. Tjasa is a gem.

Enjoyed Ptuj very much in spite of the crappy weather. The owners of Muzikafe certainly made a difference to my stay. They were so helpful and warm, really made you feel at home. Maribor was very quiet but pleasant nonetheless. Was very happy to be back in Ljubljana but I must say Hostel Celica was quite a disappointment especially the bathroom. It was wet all the time with hair everywhere! Also the sheets provided were rather old and had holes in them. The pillow was also lumpy. I didn't have time to fill up their feedback form but you may want to highlight this to them. Other than that, I'd an amazing time in Slovenia :) Slovenes are wonderful people and even though they don't speak English, they still try their best to help. I only had one not so pleasant experience with the bus driver.

It was raining and I was on my way to Skofja Loka and since there was no shelter, I thought I could wait in the bus. So about 10 mins before we departed, I knocked on the door and he just didn't seem pleased at all and was mumbling the whole way through. Now we know when someone mumbles, more so in a language you don't understand, it usually doesn't mean they're paying you a compliment :) Oh well I just told him to have a nice day.

My review for SloveniaForYou is long overdue. A huge THANK YOU for all your helpful suggestions and ideas but most of all for making my planning so much easier. Also thank you for suggesting the Walking Tour with Tjasa - it certainly was a very good introduction to the beautiful city. Keep up the good work!

Best wishes from Malaysia,
Christina

Take a great introductory tour of Ljubljana with Tjasa!

| | |
| --- | --- |
| From: | The Wallers |
| Date: | Oct 2013 |
| Visited: | Off Cruise Tour to Lake Bled and Ljubljana |
| Recommends: | All places visited |
| Concerns: | NA |
Hello,
We were traveling on the Celebrity Silhouette. It was a wonderful day with travel to Lake Bled and Ljubljana. Our tour guide "Monica" was outstanding and so knowledgeable. Top notch tour guide!!

We did not go into the Castle as the weather was bad with overhanging clouds and fog so we would not have had a view to the lake. We did however travel the lakeside, stop for photos, and then have a sample of one of Tito's favorite desserts. It was wonderful!!! Our trip into the city was informative and enjoyable. The stop for lunch complete with grilled was the highlight! The food was great!!!

Thank you for providing us such outstanding service. We would definitely recommend your company.

The Wallers

Choose from a great selection of Slovenian off cruise tours from Koper!

| | |
| --- | --- |
| From: | Bill and Olga |
| Date: | Oct 2013 |
| Visited: | Off Cruise tour to Lake Bled and Ljubljana, Dubrovnik |
| Recommends: | All places visited |
| Concerns: | NA |
| | |
| --- | --- |
| From: | Lawrence and Karen |
| Date: | Oct 2013 |
| Visited: | Off Cruise Tour Slovenian Coast Piran + Wine Tasting |
| Recommends: | All places visited |
| Concerns: | NA |
Just wanted to say Thank you for a great Tour we had in Slovenia on Oct 20th. Our guide Primoz took complete care of us.

We saw much of the coast Beautiful Piran and many churches ,landmarks in the hills above the coast. We also had a wonderful wine tasting along with many tasty Slovanian meats & cheeses at a country restaurant. Primoz was a great guide who told us many interesting facts about your lovely country. Our friends young daughter thought he was very cute!

Thank You again for one of the Highlights of our trip to Europe. Please tell him he was an excellent guide If we ever return to Slovenia we will use your service for sure. We will also post great reviews for you on the Tripadvisor website

Thanks again Lawrence

Choose from a great selection of Slovenian off cruise tours from Koper!

| | |
| --- | --- |
| From: | Lorena (Spain) |
| Date: | Sept 2013 |
| Visited: | Transfer from Trieste to Bovec |
| Recommends: | All places visited |
| Concerns: | NA |
| | |
| --- | --- |
| From: | Jen (Australia) |
| Date: | Sept 2013 |
| Visited: | Maribor, Ljubljana, Soca Valley, Piran |
| Recommends: | All places visited |
| Concerns: | NA |
Hi Greg & Ronalee
I had a great holiday. The planning all worked out and I would have happily stayed on longer. It's a beautiful country full of surprises and great variety. Vesna is a gorgeous woman and our time with her was very special. I just looked at your Facebook info to see that you are branching out to Italy and Hungary. Good luck!

Jen

Vesna is waiting to take you on a cultural experience now!

| | |
| --- | --- |
| From: | Judy (UK) |
| Date: | August 2013 |
| Visited: | Ljubljana, Bled, Bohinj, Kobarid |
| Recommends: | All places visited |
| Concerns: | NA |
Hi Greg and Ronalee

I know this is late but thought I would get back to you to say that we had a great holiday in Slovenia and it was one of our best family holidays. I am spreading the word here in the UK about Slovenia- lots of people have heard how beautiful it is but few have visited!

We liked the apartment in Ljubljana and were very pleased that we could come back to an air conditioned flat after a day's sight seeing when the weather was so hot! We particularly enjoyed a great meal in the restaurant around the corner from the apartment and going to watch the film of 'Les Mis' in the evening in the castle grounds.

Bled was amazing. We then had a few days near Kobarid- got the train to Venice and spent a day there ( hope to return for a special birthday next year!), visited the museum in Kobarid, did some walking and swimming in a river and then spent our last night near Lake Bohinj. Car hire through a firm which you recommended- Atet worked out well too. Next time we visit, we must get to the coast and to Ptuj!

Will recommend your site to any friends we can persuade to visit.
best wishes

Judy

Check our Fantastic Family Apartments in Ljubljana!
Book ATET for car hire when in Slovenia, they are the best!

| | |
| --- | --- |
| From: | Norman (UK) |
| Date: | July 2013 |
| Visited: | Kranjska Gora, Bled, Piran, Koper |
| Recommends: | All places visited |
| Concerns: | NA |
Hi
Our last night in Kranska Gora, absolutely brilliant time.
Bled night, with the candles on the lake and fireworks exceeded my expectations but then Slovenia, the country,the people and the variety, from alpine villages down to Adriatic Sea front, Piran and Kopar all exceeded my expectations.

Thank you for the help, it was much appreciated.

Norman

The Emerald River Adventure is waiting for you now!

| | |
| --- | --- |
| From: | Mary-Anne (USA) |
| Date: | June 2013 |
| Visited: | Bohinj\Bled, Adventure Sports, Emerald Tour |
| Recommends: | All places visited |
| Concerns: | NA |
I'm just back from my holiday and wanted to let you know that everything went really well!!

I ended up paragliding with Klemen, which was one of my absolute favorite parts of the entire trip.
My friend and I also both did the emerald adventure tour the following day. We were with a great group of people and really enjoyed ourselves. I think the highlight for us both was the rafting! But overall we were so impressed with everything about our experience—from the people leading the different activities to the beautiful terrain of the country itself.

We also did take the opportunity to try out one of the restaurants you suggested, Gostilna pri Hrvatu, as we really wanted to get a bit of a local experience. Once we managed to find our way there (our GPS was a little bit confused!), it was perfect. Food was great, as were the other patrons.

I can't wait to plan my next visit to Slovenia!
Thanks so much for all of your advice.

Mary Anne

The Emerald River Adventure is waiting for you now!

| | |
| --- | --- |
| From: | Jackie (USA) |
| Date: | June 2013 |
| Visited: | GoOpti from Venice to Lake Bled, Vintgar Gorge |
| Recommends: | All places visited |
| Concerns: | NA |
We had a great trip! Loved Slovenia, and want to go back. Your advice was right on and Mirja was the best. Loved her! Thanks a ton! The Vila Gorenka is a quirky old place, but we had a balcony with a view of the lake, castle and church. It was beautiful watching the sunset and the sunrise. Very peaceful. We did the luge, walked around the lake and hiked the Vintgar Gorge in the morning before we left. Had the gorge to ourselves and it was beautiful.

Jackie

Use GoOpti for all your major transfers

| | |
| --- | --- |
| From: | Guilherme (BRA) |
| Date: | May 2013 |
| Visited: | Karst & Coast Public Tour |
| Recommends: | All places visited |
| Concerns: | Predjama is only viewed from outside on this tour |
Our "Karst and coast" tour: we had a great time!
It was a pretty much comprehensive tour, so we could have a nice glance of the country, passing trough different landscapes. Just a pity the itinerary didin't gives us enough time to actually visit the Predjama Castle. We just stopped by and took some pictures at distance. I think this should be made clearer in tour the program, but It was still pretty nice to see in person the majestic castle in the rock.

Our guide seemed a little nervous, like it was his first tour... :-) Maybe he is still getting experience as a guide, but he shouldn't worry about this, because he really has lots of knowledge about the places we were visiting and was extremely kind and helpful. Well, to summarize, we liked the whole tour very much!

Guilherme

Choose from our great selection of public day tours!

| | |
| --- | --- |
| From: | Rudy (USA) |
| Date: | May 2013 |
| Visited: | Off Cruise Tour - Ljubljana,Bled |
| Recommends: | All places visited |
| Concerns: | NA |
Hi Greg & Ronalee,
We just came back from the trip late Monday, fully jetlagged, and the others are probably the same. The tour was very well organized, the tour guide waited for us in the port, she was excellent catering to all our requests, and she even took us for a short tour of Koper on the way back, since we had time left.
I took her name, I have it somewhere, since I want to send an email and mention her excellent service to her company.

I cannot speak for everyone, but my wife and I enjoyed the tour despite the absolutely miserable weather, we had continuous rain, and in Bled was 5C. We will have to come again, and hope for better weather next time. we will definitelly mention your company to any friends planning to take the cruise and be in Koper.

Thanks and I hope to book again the tour!

Rudy

Choose from our great selection of off cruise tours!

| | |
| --- | --- |
| From: | Allen & Andre (USA) |
| Date: | May 2013 |
| Visited: | Off Cruise Tour - Ljubljana,Postojna |
| Recommends: | All places visited |
| Concerns: | NA |
The tour guide was PHENOMENAL, WONDERFUL the tour was great and very well done. WE enjoyed every minute. The only thing you could do to make it better was to stop the rain from falling. good luck on that one LOL

Allen and Andre

Choose from our great selection of off cruise tours!

| | |
| --- | --- |
| From: | Leonard & Judy, Canada |
| Date: | Apr/May 2013 |
| Visited: | 2 week tour planned by Sloveniaforyou's Holiday Planning Service |
| Recommends: | All places visited |
| Concerns: | NA |
The trip to Slovenia was wonderful in every respect including weather, scenery and food, but especially the people who were, almost without exception, hospitable and engaging.

We can comfortably say that the trip exceeded our expectations. Ljubljana, and more specifically Petra Varl B&B, was a splendid base and starting point for our visit. We spent our time in the historic central part of the city and enjoyed walks along the Ljubljana River as well as the restaurants and small shops. The initial tour provided by Tjasa provided an excellent orientation to the city and its many attractions.

For the visit to Kamnik and Velika Plannina we had Jeri from Roundabout as our guide. She was very knowledgeable and informative. The weather did not permit us to see much on Velika Plannina as the fog closed in so we went down and spent a few hours at the Arboretum near Kamnik.

Lake Bled and Bohinj were very scenic. Darko transported us to the waterfalls near Bohinj as well as Vogel and Vintgar Gorge.

The train ride across the mountain to Most na Soci was enjyable as the weather was clear. We were met there by Vesna who organized a number of events in Kobarid, Robadice and Smartno. Vesna was superb; knowledgeable, sincere and genuinely committed to ensuring that we enjoyed our stay in that part of Slovenia.

In Piran we stayed at B&B Miracola di Mare; Borut and Dennis were excellent hosts and their facility was near the heart of the town, Tartini Square. The walks through the square and the narrow streets/walkways as well as the walk along the seashore revealed wonderful opportunities for viewing the beauty of nature and the town as well as the daily life of inhabitants of Piran as well as tourists.

We took the bus and then the train to see the Postojna Caves. The caves were awe inspiring, but this is the one location where there was somewhat of a commercial feel due to the massive numbers of tourists. In contrast to commercial feel at the cave, the taxi service provided by a driver named Dario who transported us from the train station to the site of the caves was efficient but also very genuine and sincere.

Our trip conclude in Ljubljana where it started with accommodations at Hotel Emonec and Antiq Hotel which were both very good. We utilized the services of GoOpti with driver Ales Susnik to get to and from the airport. Again, the service was prompt and efficient but also very pleasant.

In summary, the trip was fabulous. In our two week stay we got to see only a portions of what Slovenia has to offer. Before we left some had suggested that a two week stay in a small country might be too long but in our experience this was not at all the case. The natural beauty and the history as well as the food and wine, but especially the people made for a wonderful holiday. We would not hesitate to recommend Slovenia as a destination for European travel.

We were very happy with the suggestions that Sloveniaforyou.com made regarding our itinerary including the locations to visit and sequence of the travel as well as the services for accommodations, tour guides and travel arrangements.

Leonard & Judy

Choose from our great selection of private tours!
Let Tjasa introduce you to Ljubljana on her excellent tour!
Use GoOpti for all your major transfers
Let Vesna show you the real Slovenia, hands on and heaps of fun!
| | |
| --- | --- |
| From: | Angela, Germany |
| Date: | Apr 2013 |
| Visited: | 4 day package tour around Slovenia |
| Recommends: | All places visited |
| Concerns: | NA |
Thank you Sloveniaforyou.com & Roundabout for making our Slovenia vacation absolutely fun and wonderful! Slovenia is one of the most beautiful places on Earth!! Slovenia was amaaaaazing!! We loved it! Thanks so much.

Tine was our Ljubljana guide...I can't remember the guy's name who did our Karst tour, but he was wonderful!....and Jerica was our guide on the Alpine Fairytale. The weather was beautiful and sunny our entire trip...we got really lucky! The moment we returned to our hotel on Sunday night, it was raining and thundering so weather worked out very well.

I've already recommended Sloveniaforyou and Slovenia to many colleagues. I'll keep doing so...

Angela

Choose from our great selection of private tours!
| | |
| --- | --- |
| From: | Lauren, Scotland |
| Date: | Jan 2013 |
| Visited: | 7 day Ski Package to Kanin, Bovec |
| Recommends: | Bovec |
| Concerns: | NA |
Just enjoyed a fantastic skiing trip thanks to you guys!

Bovec in Slovenia was just the right place for a fun, friendly relaxing trip and I enjoyed some excellent skiing despite being unlucky with the weather a few of the days. Everyone has been really lovely and the accommodation, service, etc. perfect! So many friendly people really helping me out made such a difference to my trip.

I can't thank you enough for your help and I should probably warn you that one of the skiing instructors here has encouraged me to come back for white water kayaking in summer, so don't be too surprised if you here from me again next year!

Lauren

Choose the Jojo Apartments whilst in Bovec!
| | |
| --- | --- |
| From: | Jackie, NZ |
| Date: | Sept 2012 |
| Visited: | Tour off Cruise with SloveniaforYou.com |
| Recommends: | Ljubljana, Bled |
| Concerns: | NA |
I would like to recommend "Slovenia for You" if you are looking for a great tour operator out of Slovenia.

We were on the Celebrity Silhouette Adriatic cruise in Septemeber 2012 and as an active Cruise Critic and Trip Advisor member I found these wonderful people who were able to help me co ordinate a private tour to Ljubljana and Lake Bled.

Actually my postings for extra people on the Cruise Critic Members Board were so popular we ended up reserving two vans as half our group wanted to tour Ljubljana/Lake Bled and the other van wanted to tour Ljubljana/Postojana I also passed on Greg and Ronalee's Kodrics contact details www.sloveniaforyou.com to other people on the boards which resulted in 4 vans being booked.

Correspondence and replies were extremely prompt and efficient, conversing in English was easy I suspect Greg is from an English speaking country which really helps as we all know when booking tours in Europe.

I liked that they DO NOT REQUIRE a 100 euro deposit like some other operators do.
Our vehicles were modern spacious Mercedes that seat 8 and the price was very very affordable under half what you will pay for a similar tour in Italy.

Koper is the port that we docked in and our operator and guide Adrijana was waiting for us along with the other tour guides for the extra 3 vans.

Adrijana was outstanding her English and knowledge on the history of the area was excellent. I enjoyed her guiding style, she never rushed us and gave us lots of options and was very amenable to suggestions and things that we wanted to do. The areas that we visited were visually stunning I am only sorry that being a cruise stop we could not have stayed longer there is so much to see in this beautiful country that I will be returning.

This was one of 5 private tours that I personally organised via the CC Members Board our cruise was extremely port intensive 12 day cruise 9 ports and only 1 sea day but was one of the best that we took. I highly highly recommend. If you wish to contact me personally you will find me via my trip advisor and CC name "chessybear".
Good luck everyone and happy travelling.

Jackie

Choose from our range of Off Cruise Tours/Trips or make your own!
| | |
| --- | --- |
| From: | Daniele, Canada |
| Date: | Sep 2012 |
| Visited: | Tour off Cruise with SloveniaforYou.com |
| Recommends: | Ljubljana, Koper |
| Concerns: | NA |
I We really enjoyed our trip to Slovenia. In our cruise, visiting your beautiful country was one of the highlight and our guide (Yuri?) was very nice and all the people (8 of us) in our group formed on cruise critics kept talking about it.

We are busy now writing our review that we will post on cruise critic and on our french-canadian website Le monde des croisières.

Daniele

Choose from our range of Off Cruise Tours/Trips or make your own!
| | |
| --- | --- |
| From: | Preethi, UAE |
| Date: | Aug 2012 |
| Visited: | Day Tour with Sloveniaforyou.com |
| Recommends: | Postojna Caves, Predjama, Lipica, Piran |
| Concerns: | NA |
I am back in Dubai after a wonderful trip to Slovenia (of course would have preferred if the weather was not so hot when we visited Slovenia) .

Anyhow, just wanted to thank you for organising the 'Karst & coast mystery tour' and the drop off to Bled.

The tour was very interesting and the tour guide (sorry forgot his name) provided excellent service.
Will definitely recommend your company to anyone I know who is interested in visiting Slovenia...
Thanks once again. Kind regards,

Preethi

Choose from our range of Public Day Tours!
| | |
| --- | --- |
| From: | Elaine, USA |
| Date: | June 2012 |
| Visited: | Tour off Cruise with Sloveniafroyou.com |
| Recommends: | Lokev, Lipica, Karst&Istria Wine,Proscuitto,Olive Oil tasting, Koper |
| Concerns: | NA |
I intended to write sooner to let you know what a wonderful time we had. Juri was a great guide and taught us so much about Slovenia. It is such a beautiful country and we hope to visit again some time. I am just going through our pictures now, but will send a couple when they are sorted out.

I would highly recommend this tour and guide.

Elaine

Choose from our range of Off Cruise Tours or make your own!
| | |
| --- | --- |
| From: | Adrianna, Italy |
| Date: | June 2012 |
| Visited: | Postojna, Predjama, Jeruzalem, Ljutomer, Banovci terme, Ormož, Ptuj, Kamniska Bistrica valley, Velika Planina, Bled, Kanal ob Soci |
| Recommends: | Predjama, Hlebec tourist farm (book well in advance), Ptuj, Velika Planina, Bled |
| Concerns: | NA |
Spent 5 days in Slovenia but still not enough for us!! What a nice, beautiful, friendly and green country is it!! Our next trip? Slovenia!!!!!

We started our trip in Trieste, is a city we wanted to visit since years ago, now we had the occasion and suited perfectly in this itinerary. Trieste is "Mittel-European" not like other Italian cities. Visited also the Triestan coast, the Duino castle (that still belongs to a noble family), Rilke path. Stunning views can be enjoyed in this whole area.

We crossed the border and still I was unsure if visit Postojna or Skocjan caves... have to be one of them and finally chosed Postojna... we liked, is touristy friendly, so easy when with children; my little one loved the train ride, the walks in the surroundings, easy parking, so easy touristy. Predjama castle was a must too (come on, visit Postojna and not Predjama?) I was amazed how Postojna was so full of tourists and Predjama almost empty... I couldn't believe it! We liked Predjama castle a lot!!

Then we had this almost 3 hours drive to Jeruzalem, we were so looking forward to reach this hidden gem (Hlebec) in this wine area. I wouldn't never reach to know about the existence of this "turisticna kmetija" without the suggestion of Greg & Rona. It completely met and exceeded our expectations!!! In the area is so nice to drive or bike around, is a Slovenian Tuscany... Even if its far away (and kind in the middle of nowhere) I can't wait the moment when I can go back there again, with friends this time... The unwanted time arrived: leaving... originally we wanted to stay more time but they were already fully booked since months; I was secretly hoping a last minute cancellation of those booked but never happened so had to leave, so sorry to leave...

Next destination was supposed to be Bled but the bed & breakfast by the lake was fully booked too so had to stay in the middle of somewhere between Jeruzalem and Bled and choice fall on the Kamniska Bistrica valley. If knew earlier I would choose other valley (Logarska dolina) but this still was a good one. Is a close valley, nice for picnic, hiking (we had an encounter with a roe deer!), my little one had a good time reuniting snails. Took the cable car to Velika Planina, pity that the weather wasn't the greatest at the moment (foggy with some clearings) this is a nice place for summertime to hike and to visit this special herdsmen village.

Bled cannot be blamed for being touristy, was born to be touristy!! And we did the touristy activities : walk around the lake, took the "pletna", dined at a lakeside restaurant. Very beautiful area. The drive home through the Soca river was amazingly stunning. Next time will try to visit more this area (Kobarid, Vintgar gorge) Skocjan, Lipica stud farm and other areas. In a few words: we fell in love with Slovenia.

Adrianna

Come stay at the Hlebec Tourist Farm! Review Here
| | |
| --- | --- |
| From: | Beverley, Canada |
| Date: | June 2012 |
| Visited: | Trieste, Slovene Coast, Postojna Caves, Predjama, Ljubljana, Bled |
| Recommends: | Hudicevec Tourist Farm (Postojna), Antiq Hotel (Ljubljana), Postojna Caves |
| Concerns: | NA |
Hi - Mitja from Roundabout sent a great guide and we loved the Antiq Palace Hotel and being in Ljubljana. Great hotel and good service. We stayed in a suite. We would recommend an inside room - quite noisy on the street. Would stay there again. Staff are extremely helpful and friendly.

Ljubljana is such a vibrant place. So much art/music/ design. As the guide said - small and sexy - lots of music and art and friendliness.
We have gotten lost several times on the ring road driving in and out of the city - signage hard to decipher :) Festival in the square was an added bonus.

Hudicevec Tourist Farm: very nice for the price. Very welcoming family. Dinner was good.
We rented from Avis - all was good. Lake bled - ate at the villa bled - pricey but food beautifully presented and delicious. Postojna caves - amazing!!
Predjama castle - very creepy. Miramare castle Trieste also was worth seeing.
We went to 3 concerts. All outdoors.

Thanks for all your help - we will recommend you to friends.
Beverley
| | |
| --- | --- |
| From: | Nandkishore, India |
| Date: | May 2012 |
| Visited: | Ljubljana, Bled, Kranj |
| Recommends: | Ljubljana Medieval Market, Bled |
| Concerns: | NA |
Hi Greg and Ronalee,
I had a wonderful time in Slovenia - Ljubljana and then Bled, especially in Bled. Kranj was closed on the Sunday, that we visited it, therefore, it was a bit of a difficulty, but yet it was very pretty.
Ljubljana had some special events like The Medieval Market, which we really enjoyed by us.

Slovenia is mini Europe, minus the high costs. It has all the bells and whistles of a European destination and to crown it all, wonderful Slovenes. We have had a pleasurable trip due to you both helping us, even before we landed in Slovenia, and then the people of Slovenia, who were always there, to most willingly help us, at every step at which, we sought such help.

In India, very few people speak about Slovenia as a European holiday destination. It is always Switzerland, Germany, France, Italy etc.

I thank you again for your prompt email replies that made my trip pleasurable.
Nandkishore
| | |
| --- | --- |
| From: | Paul, USA |
| Date: | April 2012 |
| Visited: | Slovene Coast, Vipava Valley |
| Recommends: | Pilih Tourist Farm, Mance |
| Concerns: | NA |
Greg and Ronalee,
We had a fantastic time!! Slovenia was incredible. We had an amazing lunch near Izola and checked out the coastal towns. We went to Croatia (Rovinj), then came back to Slovenia and stayed at Petra and Milos's Farm at the Pilih.

She was very nice, rooms were great and the vineyard area in the Vipava valley was beautiful. Thanks so much for your insight. I hope to go back one day and check out many more towns in your country.
Many thanks for the great itinerary. This was just what I was looking for!
Paul
| | |
| --- | --- |
| From: | Nurit, Israel |
| Date: | April 2012 |
| Visited: | Ptuj, Bled, Skofja Loka, Postojna, Idrija, Ljubljana, Maribor |
| Recommends: | Hotel Garni, Skofja Loka |
| Concerns: | |
Hi hi, Dober dan :-)
So we're back home. It was very nice. We had 3 beautiful sunny days and 3 rainy.

The first night we spent in Ptuj - which was lovely. then we made a rural tour - on the way to a place - I can't remember the name... Gora something...(lol) but we found ourselves on secondary roads, climbing up hills and I got scared... there was a very dry river there and almost nobody around.... so we turned and went to sleep at Celje.

The 3rd day brought heavy rain. We drove to Bled saw the lake while rain was pouring like shower.... The tourist information told us the rain is expected to continue for a few days. He suggested that we'll go to Skofja Loka, which I'm glad we did.

We found this lovely Hotel Garni and stayed there for 3 nights. Igor - the owner was very helpful and gave us advice as to where to go. So we visited Postojna, Idria, Ljubliana and the last day we went to Maribor - there was finally enjoyed a beautiful sunny day, thus we could admire the view.

Slovenia is a gem - no doubt about it. It's a nice country' compact and easy for tourists. The people are very nice, everyone loves to help. We felt great and would love to come again (there are many spots we have to check V...).
Thank you for your kind help
Chwalla and Shalom :-)
Nurit
| | |
| --- | --- |
| From: | Nazarena, Italy |
| Date: | January 2012 |
| Visited: | Postojna Caves |
| Recommends: | |
| Concerns: | |
We had a wonderfull time!!! Your region is very beautifull!!, Thank you VERY MUCH!!!!
We moved by bus!!! From the bus stop we went by walking!! It is not so far!!! Consider that my daughter has walked without problem!!

Maybe in the summer there are connections!!! Unfortunately we did not go to Predjama as there were only 2 taxi, one was occupied and the other one did not work!!! I have asked other guides to call someone as the tourist information of Postojna was closed on New Years Day! They have explained to me that in summer there is a connection by bus from the caves to the castle!!
Thank you, Nazarena.
| | |
| --- | --- |
| From: | Becky, USA |
| Date: | October 2011 |
| Visited: | Lipica, Postojna Caves, Piran |
| Recommends: | Movis Tours, Orel Taxi Bled |
| Concerns: | |
To Mr Rok Puppis, a couple of weeks have passed, but I did want to let you know how much our group enjoyed our one day tour of the Slovene coast and the Lipica stud farm/performance.
You were so knowledgeable, courteous, and accommodating, and the day was a wonderful conclusion to our two weeks in beautiful Slovenia . We will definitely recommend your excellent service to our friends.

Greg and Ronalee, I'll be glad to recommend your services as well--the tour with Rok wouldn't have happened without you!
Again, thanks so much for your recommendations and help. By the way, Orel Taxi in Bled was absolutely great, as well. We had to leave the hotel at 5:00 a.m. to catch our flight and even at that hour I loved Mr. Orel's stories. He was prompt, interesting,and so very kind.

Oh my goodness, how I do love Slovenia!
Becky
| | |
| --- | --- |
| From: | Mel, Australia |
| Date: | October 2011 |
| Visited: | Bled, Bohinj, Ljubljana |
| Recommends: | All places visited, Vogel Cable Car |
| Concerns: | |
Hey Guys!

Just writing to let you know i had an AMAZING time in Slovenia! I love it here!

Yesterday I cycled around the lake and explored the walking trails and the castle in the morning when it was sunny, after lunch I went to Bohinj where it was snowing!! and got the gondola to the top of the mountain and had the most breathtaking views ever!

Last night i had goulash soup and drank wine with some locals until the early hours of the morning. I love this place! Im sad to be leaving today but I will definitely be back next spring.

Thanks for all your help!
Mel
| | |
| --- | --- |
| From: | Linda, Sweden |
| Date: | October 2011 |
| Visited: | Day Tour off Cruise Ship to Postojna Caves, Predjama, Piran |
| Recommends: | All places visited |
| Concerns: | |
Hello Greg and Ronalee!

We are now back in Sweden after a fantastic cruise with all its experience. It started out so well with the Slovenia tour. Our guide was fun and generous. He told us all about Slovenia history in a good way and time flied away. We also liked Postojna caves and Predjama castle.

We experienced 3 counties and 7 ports on our cruise and we enjoyed Slovenia and Sicily best. I want to thank you two for all help that made our vacation so perfect.

With best regards!
Linda with family
| | |
| --- | --- |
| From: | Amit, India |
| Date: | September 2011 |
| Visited: | Maribor, Ljubljana, Bled (Penzion Mayer) |
| Recommends: | All places, Penzion Mayer, 3Glav Adventures Emerald Tour |
| Concerns: | |
Thanks to Greg & Ronalee from Slovenia for you, we had a wonderful trip of Slovenia. They gave excellent suggestions about hotels, adventure trips and things to do.

They recommended Penzion Mayer in Lake Bled which turned out to be great. Dietmar, the owner, was very friendly and a great host. He was very kind to drop us to Vintgar Gorge as well as drop us to the train station on the last day. ...We were glad to have found Penzion Mayer. Thanks SFY.

SFY also recommended Emerald Tour of 3glav adventures and it was outstanding tour. This tour took us through the hidden gems in Triglav National Park and it was a memorable tour. The rafting on Soca River was amazing, especially jumping in the ice cold emerald blue water.

We were not sure if we wanted to visit Maribor. But, SFY suggested that we do and we were happy that we did visit Maribor. Its a very nice small town.

So, a BIG THANK YOU to SFY for all your suggestions. We wish we would have spent more time in Slovenia and I am sure we will visit Slovenia some day again.
We highly recommend visiting SFY website and take suggestions from Greg & Ronalee.
| | |
| --- | --- |
| From: | Jenny & Michael, Australia |
| Date: | August 2011 |
| Visited: | Most Na Soci (Lucija), Bovec (Jojo Apts/Joffitours), Bled, Ljubljana, Piran |
| Recommends: | All places visited |
| Concerns: | |
Hi Greg & Ronalee,
We would like to thank you for all your help & suggestions for our recent trip to your country. It was everything you promised. We had a wonderful time , the people were very helpful & friendly.

Your suggestion to go to Joffitours was great & the accommodation was outstanding. Dragan was a wonderful host & helped organise our sightseeing.

Another highlight was Most Na Soci our host Dean was a great ambassador for your country. As we were travelling by public transport Most Na Soci is a bit isolated & Dean took us himself to the sights & picked us up. In Piran near his home he also helped us with our sightseeing & even our departure to Croatia.

We will definitely be back.
Jenny&Michael
| | |
| --- | --- |
| From: | Judy,Bruce and Ian, USA |
| Date: | August 2011 |
| Visited: | Day Trip off Cruise with Movis Tours to Postojna Caves, Predjama Castle, Piran, Portoroz |
| Recommends: | All places visited |
| Concerns: | |
Rok: Thank you - and especially Jasmina- for a FABULOUS day. Jasmina met us as arranged with a smile on her face and a lot of information! It only got better as the day flew by. The caves were fabulous. Being so thougtful, Jasmina remembered a jacket for me. Her preview of what we were to see was very helpful. We proceeded to the castle.

Jasmina had so much interesting information for us. We had a wonderful lunch on the seaside in Piran with, of course great information and commentary. We finished up in Portoroz and back to Koper. We so enjoyed our day with Jasmina. She is so full of terrific information and provided terrific insight into not only the sites but culture, history, politics. We could not have asked for more.

Good luck. Think about ways to optimize your website. You are truly a gem and should not be the "best kept secret" in Slovenia. Keep an eye on Trip advisor. I hope to leave you a great recommendation.
Thanks so much again, Judy, Bruce, and Ian
| | |
| --- | --- |
| From: | Jane and Tony, Australia |
| Date: | July 2011 |
| Visited: | Bled (Prenzion Mayer) |
| Recommends: | All places visited |
| Concerns: | |
Hi Greg and Ronalee,
I apologise for the delay in replying to your email but things have been hectic since we returned. We had a fantastic trip and Slovenia was one of the highlights although 2 nights was nowhere near enough.

We stayed at Penzion Mayer which met all our expectations and we borrowed the bikes they had on offer and rode around Lake Bled and took a row boat out to the church. Harrison and Amelia loved the Fun Bob and have to admit I really enjoyed it myself, we also went Fun Rafting and as the name suggests we had a lot of fun although the water was freezing and took our breath away we still managed a lot of laughs.

Tony also got his one game of golf for the holiday in Bled and had a great round with a local man and really enjoyed it, he did mention it was one of the hilliest courses he has played which wasn't a bad thing as we were indulging in all the delicacies including Kremsnita at the Park Hotel.

I have attached a few of our photos over 2 emails, hope you enjoy them. (see our Gallery page)
Thanks again for all your help to make our time in Lake Bled a memorable one.
Jane
| | |
| --- | --- |
| From: | Eithne & Justin, Ireland |
| Date: | July 2011 |
| Visited: | Ljubljana (Emonec), Bled, Bohinj, Piran (Miracolo di Mare), Bovec (Hotel Alp) |
| Recommends: | All places visited |
| Concerns: | Wanted to get closer to Slap Savica, Hiking Information |
Hi guys!
We had an amazing time in Slovenia! We ended up spending 3 nights in Ljubljana (Hotel Emonec), 4 nights in Bled (B&B via Union Travel), 3 nights in Bovec (Hotel Alp) and 5 nights in Piran (Miracolo di Mare). We really enjoyed Ljubljana, but it was super hot and humid when we were there! It's a beautiful city, very clean and pretty. We found the hotel basic but comfortable, and a good price for the city centre location. We did a walking tour of the city which was really interesting.

After spending 2 full days in Ljubljana, we made our way to Lake Bled - what a stunning place! We spent our days in Bled mainly going for walks and hikes in the morning and afternoons lazing by the lake! Our highlight in Bled was definitely a hike to Vintgar Gorge - it's amazing! We also took the bus to Lake Bohinj and hiked to Slap Savica, which was a nice hike but the views of the waterfall itself were quite disappointing (you can't get close at all to the water!). After visiting Bohinj, we would actually have liked to spend 2 days in Bled and 2 in Bohinj, as there seemed to be more hiking trails in Bohinj.

From Bled, we headed to Bovec by bus via the Vrsic Pass, which was absolutely amazing. We fell in love with Bovec the minute we got there, even though it was raining! In Bovec, we hiked from the source of the Soca back to the town, which was beautiful. It took about 7 hours, but was well worth it. The water of the Soca is so beautiful and clear! We went white water rafting in the Soca the following day, and had intended on going canoyning but bad weather resulted in our leaving Bovec a day early. We went to Piran where we spent 4 days enjoying the sunshine and the sea.

We would definintely recommend Slovenia as a holiday destination, particularly for people to enjoy the amazing ourdoors activities and scenery. There are a couple of things that we would have done differently - we would have liked to have spent more time in the mountains and perhaps a day or 2 less at the beach.

We found that it was rather difficult to get information about hikes in general: when we went to tourist offices in the different towns to ask about maps for hikes, we found it quite difficult to get any information other than information we already had in our guide books. (Readers please note that Adele from Slovenia in Action and Slovenia for you is happy to organise guided or self guided hikes and has all the relevant information needed - contact us for details) Something that we would have really liked to do is join a group where you could do a day or 2/ 3 day hikes. This was offered for climbing Triglav, but not for any other hikes, which was a bit disappointing for us. We couldn't help but feel that we may have missed out on some really spectacular hikes that were just on our doorstep!

We also realised when we were in Bovec that you really need a car to get to the start of the nicest hikes in the area, and we had travelled by bus. So, if we were to repeat the experience, we would definintely rent a car for at least the mountain part of the holiday.

Apart from those few comments, we had a super holiday. The most striking things for both of us were the stunning mountain scenery and the amazing clear waters of the rivers and lakes.

And the B&B we stayed in Piran was really nice with a lovely breakfast served in their garden, we would highly recommend it! Thanks so much for all your help and advice on getting organised and planning our holiday, it really helped. Triglav is on our sights for our next trip to Slovenia

Thanks again
Eithne and Justin
| | |
| --- | --- |
| From: | Sandra&Jerry, USA |
| Date: | July 2011 |
| Visited: | Ljubljana (Slamic), Bled (Best Western), Bohinj, Vrsic Pass, Kobarid (Hotel Hvala), Skocjan Caves, Lipica (Hudicevec) |
| Recommends: | All places visited |
| Concerns: | |
We enjoyed our trip very much. Thank you for all your help. Here is what we did in Slovenia:
Drove from Zagreb to Ljubljana.......around 2 hours. Stayed in Ljubljana for one night and stayed at Salmic B&B. The room was clean and the people were nice and helpful. It is a 10 min walk to the city center. Took a Ljubljana walking tour sponsored by the TI. This was a good tour with a nice boat ride at the end. We had a great dinner at a Mexican restaurant called the Mexican Cantina. Fajitas was a superb and a nice change.
Drove to beautiful Lake Bled. Stayed there for 2 nights at the Best Western. Nice place on the Lake. Took a tour with Tina Hiti, who also does tours for Rick Steves. She was very good. We hiked up beautiful Vintgar gorge. A must see. We also went to Bohinj Lake and hiked up to the Iglica falls.

We drove thru the Julian Alps along the Vrsic pass. More beauty. Stayed in Kobarid, a small town on the way to the caves. Hotel Hvala is very nice and we ate at the restaurant in the hotel. One of the best in Slovenia. Drove to monument to the soldiers and found a most beautiful view of the valley, Soca river, and town. Lots of hand gliders filled the skies.

We then drove to the Postojna area to see the Skocjan caves and Lipica stud farms. We stayed at the Hudicevec farms. Great food and nice rooms on a farm. Very nice people. The caves and stud farms are a must see. From here we explored Croatia.

Slovenia is very beautiful and we are most happy we saw your country. Thanks again for all your help.
| | |
| --- | --- |
| From: | Jaemin Kim, South Korea |
| Date: | July 2011 |
| Visited: | Bled, Bohinj, Postojna, Predjama |
| Recommends: | All places visited |
| Concerns: | Waiting for the Pletna to leave in Bled |
I and my wife came back to Korea last Sunday, we were truly impressed by Slovenia. Especially Bled and Postonja are one of the best places that I have ever visited. Everything was more than expectation.

First we visited Predjama castle by taxi. Luckily they were holding their annual medieval jousting tournament festival. Anyway, we enjoyed watching duels like fencing, shooting arrows, throwing spears on the horse, cutting cabbage with sword on the running horse etc. Predjama castle was good also, but we like the festival more. If I visit there again, I want to know the festival schedule and watch it again.

Postonja cave was very impressive. Taking trains made me feel like I am going somewhere out of this earth. And in the cave it was really different place. I have visited many caves so far, but Postonja cave is the most impressive one. Spaghetti room, concert hall etc, I can't forget them.

Best of the best of Bled. We arrived at Bled at 7:20AM in the morning. When the place was quite and calm, I liked the peace in there. Hiking around the lake was fun. Visiting Bled island and view point was nice also. It was a bit hard to climb mountain in the rain, but obviously it's worth to visit there if you want to see the whole Bled in one picture. The only downside was a boat. The price 12 euro was a bit expensive, and the boatman said that we need at leat 5 people to leave, Later than he asked us to wait a few more people, and after 10 minutes he found two, but still wanted to find more people. I understand because he earns money per person not per boat, but it made us waste time. Anyway, Bled island, Bled Lake, Bled castle and mountains over them, they were all great.

We like Bohinj also. Feeling the atmosphere of Alps at the top of Vogel cable car was good and the view from there was fantasitc, needless to say. I only wished that it would be nice if there's any view point on the top of cable car station or somewhere near there.

In conclustion we enjoyed Slovenia travelling a lot and wish to visit there again someday.
| | |
| --- | --- |
| From: | Sam, UK |
| Date: | July 2011 |
| Visited: | Taxi Transfers to Tolmin for Metalkamp |
| Recommends: | All places visited, Taxi transfers |
| Concerns: | |
Hey guys,
It was perfect! The taxi firm were fantastic - prompt, friendly and helpful; the weather was immense; and as ever the people of tolmin were delightful.
I've also discovered the wealth of DH MTBing in the area, so next year may well be a two-tiered affair.
Thanks so much for your help, it really lightened the load =) I'm off to the French alps this morning for a bit of DH action, but when I return I will upload some of the more family friendly photos on to your fb page.
All the best and cheers again.
Sam
| | |
| --- | --- |
| From: | Julie, UK |
| Date: | July 2011 |
| Visited: | Ljubljana, Bled, Hiking Begunjscica through SIA, Day Tour to Venice |
| Recommends: | All places visited, Hiking through SIA, Taxi transfers |
| Concerns: | |
Although our hiking guides Ales and Adele were fitter than us and at times walked a little too fast, they were always giving us options and considering our needs. We walked up Begunjscica which was a real treat at every turn, streams, rocks, climbing, up, up and up! The conversation was always very interesting which was a good distraction. At one point i looked down and realised that i had never ever been so high (except for the Eiffel tower) but that does not count! The views were amazing, we could see the lake at Bled and hundreds and hundreds of pine trees!! We reached Roblekov dom at 1657 metres and I had some tea made from wild flowers and Peter some Slovenian soup which was very hearty and just what he needed! I did not notice the view until Adele pointed it out and it took my breath away. Stol looked so close that i thought i could touch it and it was truly a reward for the walk uphill and worth every moment. For me it was the highlight of the holiday and Adele and Ales always went the "extra mile" in making it enjoyable. Money well spent, we could not have done it without them.

The trip to Venice started early and the guides Mary and George were both very friendly, helpful and informative. Both the journeys went well with a break inbetween. We arrived in Venice about 11 and had until 5 which was ample time. It was very hot and very busy so i think it would be better to go in a less busy month, and is also quite a commercial place. A gondola ride is 100 euros so if you fancy that, it would be best to save up! Venice is packed with the most beautiful buildings and at every turn there is a jewel to behold. The canals seems to go on forever at every twist and turn and i have never seen so many bridges, lovely, cute bridges! The price at 68 euros was good value. I have a painting on my wall of Venice and have always wanted to go and now I have and can look at it and smile.

We were thankful that our first taxi company checked the flight details as our flight was two hours late and i did wonder if they would be there, but there they were( thankfully) holding a plaque with our name on. The price was reasonable and the driver was very friendly and was a nice first person to meet.

Our return taxi was punctual which was a relief as it had been booked a good week or more in advance and you are always a little anxious about getting to the airport on time. The driver was friendly and avoided traffic, the price at 35 euros seemed a little steep but i think that taxis in Slovenia are not that cheap and was worth paying for peace of mind.

Thanks to you also Greg and Ronalee for helping to make our holiday so easy and special. I am sure we will be back and already three couples have said to me "I want to go!"
Julie
| | |
| --- | --- |
| From: | Amy, Israel |
| Date: | May 2011 |
| Visited: | Bohinjska Bela, Bled, Vintgar Gorge, Postojna Caves, Ljubljana, Predjama Castle. |
| Recommends: | Sobe Ravnik (Bohinjska Bela), All places visited, |
| Concerns: | |
Friends had recommended traveling to Bled, Slovenia. My friend & I wanted tranquility, mountains, lakes & forests. We decided not to sleep in Bled but rather in a village 4 km. away. From various forums we found rave reviews of rooms in Bohinska Bela, at SOBE RAVNIK.

Run by a wonderful young woman, Mojca, (pronounced Moitsa), the rooms are lovely, the view from the porch in our room was magnificent, her breakfasts were marvelous (She has her own garden, & you get fresh lettuce & other vegetables).

We arrived in Zagreb (We had a very cheap flight), then took the train to Lesce Bled (3 hours), which was very enjoyable -- except you have to drag your own luggage on board, but all the people were so nice, we had no problem. We rented a car in Bled, & off we went. Every day we took short trips to beautiful sites: Savica Waterfall (530 steps up & worth every minute); the castle above Bled, walked around the lake; drove to Postojnska Jama (largest cave in Europe) - & to the amazing Predjamski grad (castle built into karst stone); on way back stopped in Ljubljana. One day we went to Bohinj Lake which is also marvelous.

We only had 5 full days, which is not nearly enough to see everything we wanted to see, both in Slovenia & Croatia. But it was very nice being able to stay in one place & take trips around. We'll definitely go back!

PS What I forgot to mention was that everyone we met was so nice, helpful & welcoming that it was a pleasure to be there. I don't like going in groups, since you can't really get to meet the local people. We also got recommendations for restaurants from Slovenians, & that's always the best. Besides that, we also met people from all over the world on our hikes!
| | |
| --- | --- |
| From: | Susan D, Tulsa USA |
| Date: | May 2011 |
| Visited: | Bled, Vrsic Pass, Soca Valley, Skocjan Caves, Ljubljana, Vintgar Gorge. |
| Recommends: | Dolinar Tourist Farm (Kupljenik), All places visited, |
| Concerns: | |
We are home, just about back to normal. Our 5 days in Slovenia was the favorite part of our 2 week trip. It was just as beautiful as everyone wrote and more.

We had a perfectly sunny day in the Julian Alps. We didn't get as much time there as we had hoped because we had a major foul up the night before getting on the wrong train in Austria. We went from there over the Vrsic Pass. I was so disappointed we didn't get to stop in Kobarid for the WWI museum, but we had to catch the car train in Most Na Soci. We would have never found that train without stopping to ask someone. I would suggest you write a detailed explanation for finding that train. You can't see it easily from the road, and as I recall the signage was not good. Anyway we were the last car on the train.

The place we stayed in Kupljenik was the best. I would strongly suggest you look into it for anyone doing Slovenia with a car. It was immaculately clean, gorgeous view, great breakfast, wonderful people and very inexpensive. Everything I look for when traveling to Europe. The owners were Iza, humorous and fun, and Locza Dolinar, the number one accordian player from Slovenia, now retired. He treated my daughter and I to a few songs, a very special memory. He also taught my daughter how to milk goats. Their place is a farm stay called, Dolinar-Krainer and was rated 4 apples. It is a very short drive from Bled.

We did visit Skocjan Caves, and found them very interesting. We did a few hours in Ljubljana. Our problem was, well actually it wasn't a problem, but we loved where we were staying so much, that we were slow to get out of their each day. After the caves we drove to Rovinj, but we were tired, and I kind of wish we hadn't made the effort. We also hiked to Vintgar Gorge, and enjoyed the peacefulness. We rode the Pletna boats to the island, and had some cream cake at Hotel Park. We had dinner at Pizza Rustica in Bled and it was good.

I feel quite certain we will return. There is so much more we wanted to do, but just not enough time. All the people we met in Slovenia were friendly and helpful. Their English was amazing. Thank you for all your help, it was most useful. Sincerely, Susan D.
| | |
| --- | --- |
| From: | Joy, KL Malaysia |
| Date: | May 2011 |
| Visited: | Bled, Ljubljana, Triglav National Park |
| Recommends: | All places visited, 3Glav Adventures Bled |
| Concerns: | |
Hi Greg and Ronalee,
I absolutely love Slovenia! Ljubljana is such an adorable quaint city and Bled, I could actually imagine myself staying there. I did not manage to climb Mt. Triglav as it was still thick with snow, but I spent my budgeted money for that wisely on other activities.

Our days were filled with hiking, walking and just chilling by the lake. Oh, and I even tried paragliding which was awesome! I did feel a bit sick up in the air but it was wonderful! We also did the emerald river tour and I know why it is highly rated. 3Glav really provided us wonderful memories. I was really sad to leave all of this and go back to reality:(

We take this opportunity to really thank Slovenia For You for making unbelievable and amazing arrangement for us. I am so lucky to have googled you. When you responded to our queries, we were so amazed at how prompt your response are, how friendly and sincere you are to create wonderful memories of your lovely country!

We knew from the start that we will have an awesome stay as the impression you portrayed to us were that wow Slovenes are so friendly, kind and nice! We will not have problems at all, Greg and Ronalee are wonderful, even though we have never met you. Thank you.

From:
Renate, Northern R.
Date:
April 2011
Visited:
Ljubljana, Most Na Soci, Skofja Loka, Bled
Recommends:
Petra Varl (LJU), Hotel Lucija (MOST NA SOCI), Hotel Garni (S LOKA),
All places visited.
Concerns:

The holiday was really great and I enjoyed Slovenia very much. Loved the people, the culture and sights. The Food and wine. YUM. I am just sorry we missed getting to the coast and caves. Maybe next time, I hope there might be a next time. One can only try.

Ljubljana was a interesting and hip city. I really enjoyed it. We stayed in a pension called Petra Varl. Apart from the stairs (and there are many stairs in Europe) I would recommend it. Lovely owners, great location and they have everything you need for a few nights stay.

The walking tour of Ljubjana is also a good idea. They leave from the town hall and it goes for about 1 1/2 hrs appox a few times a day. It was very interesting and a good way to meet people. I also loved the art gallery and castle.

The Hotel Lucija was very pleasant. Rooms spacious and clean, just lovely. We were the only guests as they were still revamping the Hotel. Dean and Barbara were so good to us and showed us a fun time. Very pretty spot. The river is amazing and we took some great photos. Not that we had enough time to look around. I would recommend staying there for sure.

At Skofja Loka we stayed at Hotel Garni, Kapupiriski Trg 17. Igor and his wife run it and they were fantastic. Very helpful and kind, nice clean rooms, reasonable priced. I would stay there again for sure and they also organise walking tours into the hills.

Bled and the surrounding area was a treat. We took one of the little boats over to the island and had a walk around. Lake was smooth as silk and it was a delightful trip across and back. The weather was lovely and we ate cake and had coffee and were very happy with ourselves.

We all had a wonderful time in Slovenia and thank you so much for your encouragement and suggestions and thank you for your help in planning everything. Nothing beats having the right contact and good advice. My friend and her daughter are visiting in May so I will be able to give them a few tips. .
| | |
| --- | --- |
| From: | Lynne, UK |
| Date: | February 2011 |
| Visited: | Wedding at Lake Bled |
| Recommends: | Lake Bled, Pri Planincu, Ljubljana, Postojna Caves |
| Concerns: | |
Hi,
Have just got back from Lake Bled and what a truly amazing place, had a brilliant week and would love to go back, the meal at the restaurant you booked (Pri Planincu) was lovely and we ended up going to the restaurant upstairs for pizza as most of them wanted pizza but went back down for drinks and were treated brilliantly.

We managed to do lots in our week. We went dog sledging, got pampered and went to Ljubljana and the caves which were breathtaking!

The wedding was perfect the lake wasn't frozen and we made it across. The groom proved his love and carried his bride up all 99 steps, i have included some pics from our holiday. (see the Gallery page)
Thank you so much for all your help.

I would love to go back to Slovenia and explore all it has to offer. It is a truly amazing country which i would never of thought of going but now cant think of anywhere else id rather go! I will be recommending Bled to everyone.

Lynne
| | |
| --- | --- |
| From: | Sabyasachi, India |
| Date: | October 2010 |
| Visited: | Movis Tour of Slovenia and Austria including LJU, Postojna, Piran, Bovec and Bled. |
| Recommends: | All places visited. |
| Concerns: | |
Thanks for introducing us to Rok. We met as guide and client but parted as friend and family.

He went out of his way to make our stay in Slovenia and Austria memorable. The paragliding he arranged for us at Bovec on such short notice would remain the high point of our tour.

Rok was always there at hand to help us choose the dishes we could have, was always on the lookout for the best vantage point for us to take photographs. He has a boundless wealth of knowledge about Slovenia in particular and Europe in general and it was wonderful to share the experiences. This was one of the most memorable vacations we have ever had.

I loved Slovenia, not only for the scenic beauty, but also for the ever smiling ever cooperative people we interacted with. The apartments / hotels we stayed at were first rate. Its a pity that so few people back in India know about Slovenia. I hope that changes soon and more and more of my countrymen gets to know your beautful country. I would strongly recommend both Movis and Slovenia for you to my friends.

Thanks once again, With warm greetings from India
| | |
| --- | --- |
| From: | Chaitanya, India |
| Date: | July 2010 |
| Visited: | Movis Tour of Bled\Bohinj and Postojna\Slovenian Coast |
| Recommends: | All places visited. |
| Concerns: | |
Our trip was great, and we loved the country. It met our very high expectations. The best part is that we did not have much of a food problem despite the fact that we are strict vegetarians.

We were happy with Movis, and would definitely recommend your beautiful country to our friends. And I hope i can convince some of my friends to visit your beautiful country sometime soon. However the vacation season in India is May-June. So perhaps next year.

Thanks Slovenia for you and Movis! Check out our photos under the gallery page!
| | |
| --- | --- |
| From: | Laurence, Scotland |
| Date: | July 2010 |
| Visited: | Ljubljana, Logarska Dolina, Bled, Bovec, Bohinj, Predjama, Skocjan Caves, Piran |
| Recommends: | All places visited. |
| Concerns: | |
Wow, what I time we had. We travelled around a lot in our two weeks.

Arriving in Trieste we crossed over into Nova Gorica to Bohinj and Lake Bled, then Bovec (staying with friends) + Soca river exploits, left the Triglav area via Trenta, on to Ljubljana (a gem of a small city), and then up to area including Logarska Dolina where we stayed on a tourist farm (eating home-produced food milk, cheese, butter, cold and hot meats etc.)

We then returned to Trieste taking in Predjama castle, Skocjan caves (fabulous and I've seen a lot of caves), and Piran.

Without exception, I found Slovenian people very very friendly. They are a small country and proud of it without any obvious nationalistic arrogance. The natural scenery was exceptional, food was great, the lack of litter and general high level of maintenance of roads, houses a delight. The quality of the tourist information was generally very very good. English was spoken very well by most people and there was a pleasant lack in general of any English tourists (myself excepted of course).

Don't tell too many people, Slovenia, or else you'll be overrun by us. Faults (apart from our car rental overcharging us and they've acknowledged the mistake so hopeful) were none.
| | |
| --- | --- |
| From: | Belinda, USA |
| Date: | June 2010 |
| Visited: | Ljubljana, Jeruzalem, Logarska Dolina, Bled, Bovec, Tomaj, Piran |
| Recommends: | Slamic B&B (LJU), Hlebec (KOG), Hotel Plesnik (LOGARSKA), Pristava Lepena (BOVEC), Hisa Franko (KOBARID), All places visited. |
| Concerns: | |
Thank you again to Slovenia for you for all your tips and advice!!!
We all fell in love with the country, the people, the vistas , the wine....just about everything!!!

Moving around the country we found the Slamic B&B very accommodating and convenient (enjoyed very much), Hlebec, Loved the people, the location ......also enjoyed very much, Plesnik very helpful, amazing location..also enjoyed very much, Pristava Lepena over the top amazing!! Hisa Franko, We LOVED the pizza!!! Tartini Great location, also helpful, fabulous breakfast (not so comfy beds though) but still really enjoyed it.

Having a car worked out great for us we loved having the flexibility of moving about at our own pace. We had no trouble finding our way around and enjoyed the scenery every time we drove!

I never want to forget the sights of the wine country, the steeples every where, the mountains every where. (We dipped into Austria on one of our drives as well), the Soca River, the beautiful Lake Bled, the lush green Gorge, the roof tops of Piran or the unbelievable sunset we saw on our last night in Piran.

We loved the people and wished we had time to meet more!!! We couldn't believe how green it was every where but we also understand it has been the rainiest spring in a very long time...unfortunately we ran into a good bit of that but it did not stop us for the most part....

What a wonderful trip our family had to Slovenia. I have to go back!!!!
| | |
| --- | --- |
| From: | Gwyneth, South Wales |
| Date: | March 2010 |
| Visited: | Ljubljana, Postojna Caves, Bled, Piran |
| Recommends: | Hotel Garni (LJU), Sokol Restaurant (LJU), All places visited. |
| Concerns: | |
We visited Ljubljana in March and we had a fabulous time. We stayed for five nights (originally four) but EasyJet cancelled a flight and we stayed for five but we did know this before we got there.
We were really lucky with the weather, no rain at all and three days of sunshine and two dry but cold.

We stayed at the Central Hotel Garni. Absolutely perfect location for exploring the City. Bus from airport dropped us off at the top of the street.

Ljubljana is a very compact city and very easy to walk and navigate whilst visiting. The attractions the city has to offer include the Castle Area,Churches,Central Market,Bridges and great architecture.

We also took time to visit other areas of Slovenia namely Postojna Caves,Lake Bled and the Coastal Town of Piran. All absolutely fabulous in their different ways. The bus service was excellent reliable,cheap and easy to navigate.

Lake Bled was stunning. We walked around the lake and then up to the Castle.
Postojna Caves was extremely interesting and we were quite lucky as we were the only two from the UK there in the group we were in and therefore had our own personal guide.
Piran, a beautiful Coastal Town of venetian architecture.

In Ljubljana we had some fabulous meals at the Julija,Gostilna Sokol and a lesser known restaurant called the Operna Klet (a Fish Restaurant). The Sokol was far and away our favourite. Food, service and atmosphere were excellent.

As stated earlier we were lucky with the weather and could appreciate that the Slovenians love being outside although sunny it was cold but this did not deter anybody, some places supplying blankets to cover people's legs and patio heaters on. The slovenian people were extremely friendly,helpful and went out of their way to help if looking at your guide book/map quizzically.

I would not hesitate recommending Ljubljana and Slovenia to anyone.
Hope to be back soon.
regards
Gwyneth