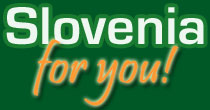 'Slovenia for you is Slovenia's No1 Independent Tourism Website! Dedicated to providing a personalised service to help you get the most out of your trip around Slovenia and beyond!
Contact us today, Slovenia is waiting for you!'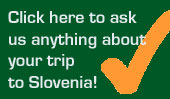 UPCOMING EVENTS/FESTIVALS in SLOVENIA
Snow Castle Festival (Gradovi Kralja Matjaža)


Details:

JAN 26-28, 2019
Crna na Koroškem
Traditional
The 24th anniversary of this 2 day Snow Castle Building Championship is great fun as teams try to outdo each other with traditional and outraegously wacky designs.

Great for the kids but beware, competition between teams from Slovenia, Austria and beyond is intense and snow ball fights may result!


Send us your review!
Kurentovanje (Pust)


Details:

FEB 15 - MAR 5, 2019
Ptuj
Traditional
The Kurentovanje is the most important traditional carnival in Slovenia.
The origins of the event are unclear, but it is understood to have evolved from ancient pagan celebrations in the fields around Ptuj.
The festival celebrates the ending of the darkness (wintertime) and the coming of Spring.
The central figure is the Kurent, believed to be an ancient god of hedoism, who is dressed up in sheep skin with a eloborate mask.
The Kurent goes from door to door warding off the evil spirits of the darkness, welcoming the harvest season.
These days its a great excuse to let your hair down and go crazy for a week or so. A myriad of street performances and events are held and the event draws more than 100,000 people daily.
The traditional carnival starts on the Saturday, more than a week before Shrove Tuesday, The event culminates on Sunday with the traditional international parade, and ends on Tuesday with the burial of the Carnival.


Send us your review!
Pruning Of The Vine


Details:

MAR 9, 2019
Maribor
Traditional
In late FEB/early MAR each year, Maribor holds the annual pruning of the worlds oldest vine. The vine is reputedly 400 years old and each year the city of Maribor gives a graft as a present to another town or community as a sign of friendship and co-operation.

The grape harvest has also become a real city festival. Thousands of citizens of Maribor and prominent representatives of the state and of Diplomatic Corps and many others come to watch the grape harvest.

On average the Old Vine has yielded 35 to 55 kg of grapes yearly in the last decade. After fermentation the wine is filled into 2,5 dcl bottles which Oskar Kogoj artistically designs. Each year up to 100 bottles of wine made from the Old Vine are filled. They are at the mayor's disposal for protocol.

A Certificate with a serial number and the vintage year accompanies each bottle. The originality is guaranteed by the Maribor seal from the year 1520 and by the city vinedresser. Among others, pope John Paul II and the American president Bill Clinton were the recipients of the bottle.


Send us your review!
---
World Ski Jumping Championships Planica


Details:

MAR 21-24, 2019
Planica, near Kranjska Gora
Annual Sporting Event
Planica is the cradle of ski-flying. Since 1934 crowds of competitors have been coming to Planica to try and break the world record. Over 60 world records have been broken in Planica, including the first jump over 100m in 1936 by the Austrian ski-jumper Seppa Bradl and the first flight over 200m by the Finnish competitor Toni Nieminen in 1994. The current holder of the world ski-flying record of 239m is Bjoern Einar Rumoeren who set the record at Planica in 2005.
Come and join in the carnival atmosphere!


Send us your review!
St Georges Fair
(Jurjev Sejem)


Details:

April TBA, 2019
Ptuj
Traditional Fair
It takes place on the streets and squares of the town in April. Approximately 150 stalls from all over Slovenia gather at this fair to sell their wares to the public. On this day a Medieval market is also organized and shouldn't be missed.


Send us your review!
Okarina Etno Festival


Details:

TBA
Bled
Annual Cultural Festival
Clocking up 25 years in existance now, every August stages in Bled have become alive with performances of Slovene and foreign ethno musicians of world renown. Crowds of people gathering in and around concert venues are the best proof to the quality of the Festival.


Send us your review!
---
Festival Radovljica


Details:

TBA
Radovljica
Annual Music Festival
The oldest Slovenian festival of early music will feature both traditional compositions as well as works created recently under the influence of Medieval music. Concerts are held mostly in Radovljica but also in Ljubljana.


Send us your review!
---
Prsut and Teran Festival
Praznik Terana in Prsuta


Details:

TBA
Dutovlje
Annual Festival
The legendary Teran wine and the equally legendary Prsut ham are a very big deal here in the Karst region. So big that they have their own weekend festival every year. Come, enjoy the festivities and of course, partake in lots of Prsut and Teran!!!


Send us your review!
---
Tartini Festival


Details:

TBA
Piran
Annual Music Festival
Four week International Festival dedicated to the violinist Guiseppe Tartini who was born in Piran. Each year, a fabolous program of classical concerts are put on and in recent years the Tartini has spread to venues in Portoroz and Koper as well. Tickets can be purchased from the tourist agencies in Piran and Portoroz.


Send us your review!
Festival of the Old Vine


Details:

TBA
Maribor
Annual Traditional Festival
The Old Vine Festival is a top tourist culinary-wine-cultural festival in Maribor and is the biggest tourist event in autumn with over 500 participants. It concludes with the harvest at the end of September and is a must-see if you are in Slovenia at this time.


Send us your review!
---
The Cow's Ball (Kravji Bal)


Details:

TBA, 2019
Bohinj
Annual Traditional Festival
Locals and tourists flock to see the spectacle of decorated cows parading through the dry waterfall, joined by herdsmen, dairy maids and cheese-makers. Festival stall-holders sell wicker work and wooden items, as well as local produce such as herdsmen's cheese. There's also traditional Slovenian folk music and dancing, plus sling shooting, log-sawing and horse-shoe casting. The event takes place in Ukanc and includes an excellent programme with a band, folklore dances and wind band, visitors can also enjoy in great local food and drinks. This is a true Bohinj celebration, which you just have to experience and see.


Send us your review!
Borstnik Meeting Theatre Festival


Details:

OCT 14-27, 2019
Maribor
Annual Music Festival
The largest theatre festival in Slovenia, several theatre groups compete for the "Borstnik Award". The festival normally lasts 2 weeks and includes groups from abroad as well.


Send us your review!
St Martin's Day Festival


Details:

NOV 11, 2019
All over Slovenia
Annual Traditional Festival
St. Martin's Day marks the day when the must traditionally turns to wine. The must is usually considered impure and sinful, until it is baptised and turned into wine. The baptism is performed by someone who dresses up as a bishop and blesses the wine, this is usually done by the host. Another person is chosen as the godfather of the wine. The foods traditionally eaten on the day are goose and almost always home-made or store bought mlinci.


Send us your review!
Ljubljana Christmas Market


Details:

DEC, 2019
Ljubljana
Annual Traditional Market
The Christmas Market in Ljubljana is a collection of diverse and beautifully lit stalls extending along several blocks, at one point reaching across over a bridge and spreading along the opposite bank. The snowy air is warm with the scent of wine and roasting chestnuts. Small children in knitted pixie-hats carry little candle-lit lanterns. A large troupe in Santa Claus costumes dance an energetic jig to the accompaniment of a string quartet. Stallholders sell cakes, chunks of fruit skewered and dunked into hot, molten chocolate, pretzels, exquisite homemade candles, woven baskets and furniture, and all manner of things fashioned from wood, from rocking horses and sleighs to bowls and wooden shoes. Ribbons and mistletoe are strung festively from eaves and cornices. Definitely a beautiful thing to see whilst in Ljubljana over Christmas.


Send us your review!
---
Christmas Crib Postojna


Details:

DEC-JAN, 2019
Postojna Caves
Annual Traditional Event
The Bible story of the Nativity is told in Postojna Cave by means of a series of tableaux in some of the most beautiful parts of the cave. Visitors can view the crib tableaux on their way through the Postojna underworld. An original contribution to the festive atmosphere is provided by 40 choirs from all over Slovenia and from across the borders. In addition to the manger, there will be a Christmas fair, chocolate fair and merrymaking in front of the entrance to Postojna Cave.


Send us your review!
Sloveniaforyou.com would like to emphasise that we are not a Travel Agency and are only representatives for our partners in Slovenia and their products as highlighted above. Client details for potential tour bookings are transferred to the actual tour company for assessing and processing under their terms and conditions. As such, Sloveniaforyou.com assumes no liability for any outcomes pertaining to any bookings made with these companies.